The Man in the Golden Slippers - Part II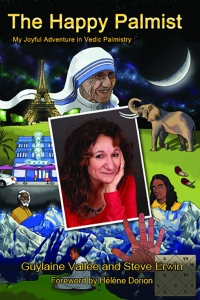 By Vedic Palmist-Astrologer Guylaine Vallée
Excerpt from The Happy Palmist: My Joyful Adventure in Vedic Palmistry
Ghanshyam looked down at my prints and began pointing to various lines with his pen.
"Look here. Your destiny line is fragmented, your Sun line is barely existent, your thumb lacks distance from your Jupiter finger, and your Mount of Jupiter is depleted and your Venus lacks balance."
I was lost in the details, not understanding a word of the technical aspects of palmistry. I did not know at the time that we all have a dominant hand (the one we write with) that reveals our conscious mind; it denotes where we currently are in our life and what we want to achieve, and a non-dominant hand that reflects our subconscious mind; it denotes where we have been and what we have experienced—let alone that how we hold our thumbs reveals our level of willpower and self-confidence. The flood of data was dizzying, but when Ghanshyam finished his initial analysis his conclusions were painfully accurate.
"You have 12 flaws that are blocking you—they are undermining your spiritual growth and making your destiny unclear. You feel uncomfortable in the world and have closed yourself off—and that is making you unhappy."
Then, in quick succession, he wrote down 10 of the flaws on my handprint sheet, in the space between the dark, inky images of my two palms.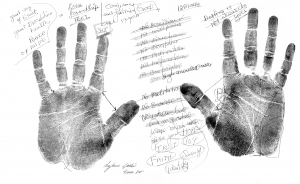 No decision
No willpower
No direction
No discipline
No motivation
No inspiration
No one point of view or single mindedness
No meditation
No exercise
No intellectual and/or spiritual work, which will give you hope, trust, joy, faith and a sense of identity
Ghanshyam's pen hovered for a moment and then, at the top of the page, he added what he said were my greatest flaws of all: no faith in myself and no self-confidence.
"You have a good head line, great intelligence; I'm sure you will find success in your career. But," he said, shaking his head, "you will probably continue to feel the same sense of emptiness."
He tapped his pen against my print, in the center of my left palm.
"Your destiny line suggests you could find something that gives you happiness, but not until your early forties."
Oh my God, I have to live like this for another 20 years? I could not imagine the misery of such a long, unhappy life.
Tears were streaming down my face. Ghanshyam, who had been very calm and respectful through the reading, slid a box of tissues toward me.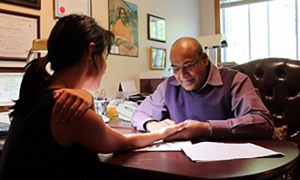 "Don't be upset, the lines on our hands aren't carved in stone—this isn't fortune-telling. Our palms show us what we need to change in our life to find happiness. When we make those changes, the lines on our hands will change. Real palmistry is not about prediction, it is about prevention, about growth!" he said with that same smile he had greeted me with.
"But my question for you, Guylaine, is this: Do you want to change, or do you want to stay like you are?"
"I want to change, Ghanshyam," I sobbed.
"Gooooood! Then you will change!" he announced happily, throwing his arms open and letting out a booming, hearty laugh. "That makes all the difference!"
He fixed his gaze upon me again, disappearing into his own thoughts for a few moments. Then he returned to my sheet with his pen and wrote "12 MONTHS" above my handprints.
"You have a mission in life; you will be of service to many people. But your mission won't begin for another year, not until you're ready."
My heart was pounding so hard, all I could hear for a few seconds was a steady thud, thud, thudding in my ears. Then, all I heard was the echo of his words: You will have a mission in life; you will be of service to many people.
Ghanshyam's words were a balm on my aching soul.
He suggested steps I could take to "open myself up" and prepare for what life had in store for me. He explained that certain gems and metals correct imbalances in the body's energy system and promote spiritual growth. He gave me a list of precious stones to buy and suggested I read Autobiography of a Yogi by Paramahansa Yogananda. Ghanshyam pointed to the picture of the man in the orange robe above his desk, whom I now felt had been watching over me since I had entered the room.
"Paramahansa's book could help you a great deal," Ghanshyam said. Then he suggested we meet every other week for five more sessions.
"We will devise a program together that will help you to develop trust and confidence in yourself and make the changes you need to bring great joy into your heart and find peace of mind. And then you'll see, Guylaine—your life will fill up with friendship and trust and love! How about that!"
Ghanshyam had delved deep into my heart during our hour-long session, and when he walked around the desk to give me one of his enormous hugs that I would come to love, I wanted to jump into his golden slippers.
"Don't worry, everything will be fine," he promised.
This man I had never met before, who came from another continent and a different culture, had just touched my heart like no one else had ever done.
I was certain that my life was about to change. As I left his office I felt something I hadn't in a long time—I was happy . . .
Part III: Continued next month.
AUTHOR
Guylaine Vallée is a teacher and consultant at the Birla Vedic Center. In her 35 years as a professional Vedic palmist, she has helped thousands of clients improve their lives and has inspired tens of thousands lecturing across North America and through her many radio and television appearances.
She is the author of The Happy Palmist: My Joyful Adventure in Vedic Palmistry, co-authored with Steve Erwin, award-winning journalist and author of The New York Times best-selling memoir Left to Tell. Guylaine is the coach of the 90-Day Challenge programs.
WHAT'S NEW: This Fall, Guylaine will be hosting a weekly webinar: The 90-Day Mounts Challenge: Unleashing the Power of the Planets in Your Hands. Click here for more info.
http://birla.ca/wp-content/uploads/2017/11/logo-eng.png
0
0
Guylaine Vallée
http://birla.ca/wp-content/uploads/2017/11/logo-eng.png
Guylaine Vallée
2021-06-27 15:59:42
2021-07-17 13:42:02
The Man in the Golden Slippers - Part II