Ghanshyam Singh Birla has dedicated his life to teaching the ancient science of Vedic Palmistry.
Ghanshyam began studying palmistry and astrology in his native India when he was twelve years old under the tutelage of his paternal grandfather, a Vedic scholar, spiritual leader, gifted palmist and highly respected Ayurvedic healer. Ghanshyam learned through his grandfather that Vedic palmistry is much more than a method for predicting future events—it is a spiritual tool and a way of understanding our deepest selves that, when properly practiced, can bless us with balanced and joyful lives, promote lifelong health and well-being, and even draw us closer to God.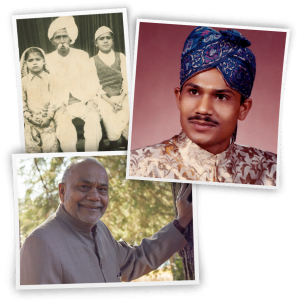 After years of diligent Vedic study, Ghanshyam opened a successful Palmistry Center in New Delhi and quickly established a thriving practice, but grew frustrated with the ingrained culture of "fortune telling" he felt was associated with palmistry in India. Seeking to bring the spiritual beauty and the many practical life-changing benefits of Vedic palmistry to a wider world, Ghanshyam left his beloved homeland in the early 1970s. He immigrated to North America and quickly established himself in the West as a trailblazing pioneer of the Vedic sciences. In 1972, Ghanshyam founded Birla Vedic International where he continues to consult with clients and teach the college-level Palmistry Certification Program he has lovingly developed over the past four decades.
Ghanshyam has lectured extensively throughout the United States and Canada and has written numerous articles and highly acclaimed books, including Destiny in The Palm of Your Hand, Introduction to Hast Jyotish, and Magnet Therapy. His first book, Love in the Palm of Your Hand, was a Book of The Month Club selection in the United States and has been translated into six languages. Ghanshyam has also recorded three popular mantra meditation recordings–Gayatri, Maha Mrityunjaya (Shiva) and Saraswati Devi.
Today, Ghanshyam divides his time between teaching students and consulting with clients at Birla Vedic International in Chénéville, Quebec in 1998.
Doctor of Divinity from Universal Brotherhood Movement Inc. an Interfaith Ministry, in Florida, in recognition of distinguished achievement in ministerial counseling and metaphysical healing, November 2003
Editor Emeritus for the magazine Light on Ayurveda in Boston, July 2002 to 2006.
Doctor of Philosophy (PhD) from the Indian Medical Council, Government of India, for the Open International University for Complimentary Medicines, January 2001
Founder and President of the National Research Institute for Self-Understanding (NRISU), the precursor to Birla Vedic International, in Montreal, Canada (est. 1972) and Burlington, Vt, USA (1987 to 2005).
Secretary of the All India Society, 1965 – 1970.
Assistant Director of Rekha Vigyan Prashiksham Sashtham, 1965-1970.
Teacher in Indian Government Institutions — colleges and high schools, 1962-1970.
Accomplishments
Honorary fellow and teaching member of the International Institute of Integral Human Sciences (IIIHS) and lecturer on the Adjunct-Faculty of the SSF's International College Program in Montreal (September 2002).
Awarded a Certificate of Attendance for participation in Ayurveda and Health Symposium and An Integrated Approach to Ayurveda and Modern Nutrition Workshop from the University of Connecticut School of Medicine (July 2002).
Affiliated with the College of Alternative Medicines, Calcutta, to offer Diploma Programs in Vedic Palmistry and Vedic Astrology (1997).
Founder of Galaxy Publications and Recordings, a division of NRISU, in 1993.
Creator of "The Naitram S. Birla Handprint Gallery", a presentation of the science and art of palmistry, as part of the 'Canada 125' National Celebrations, September 1992. For this project, he received an official commendation from the Governor-General of Canada, The Honourable R. Hnatyshyn.
Is currently working on his autobiography.
Books
Introduction to Hast Jyotish: Ancient Eastern System of Palmistry. Montreal: Galaxy Publications & Recordings, 2007.
Destiny in the Palm of Your Hand: Creating Your Future through Vedic Palmistry. Published by Inner Traditions & Bear Co., Vermont, (June 2000) and translated into 5 languages.
Magnet Therapy, a Gentle and Effective Way to Balance Body Systems. Published by Inner Traditions & Bear Co., Vermont, (October 1999) and translated into 8 languages and used in the program at the Institute of Alternative Medicine, Girinagar Kadavanthra, Cochin-20, Kerala, India.
Love in the Palm of Your Hand: How to Use Palmistry for Successful Relationships. Published by Inner Traditions & Bear Co., Vermont, (December 1998) and translated into 6 languages.
Creator of For a Glorious Tomorrow, a subliminal-affirmational recording for people with sleeping difficulties.
Producer, author and narrator of three audio recordings, The Gayatri Mantra, The Maha Mrityunjaya Mantra and Saraswati Devi which bring to the Western World an understanding of the significance of mantras.
Currently working towards completing the second book in the Diploma program online series.
Article for MENSA Canada in 1971 on the scientific significance of the lines and signs of the hand.
Regular collaborator in East/West Journal, Seraphin Magazine, Hindu Mission Journal, Cheminement, Tone Magazine, Light on Ayurveda, Bharat Times, Miracle Journey, Insight Magazine, and Toronto Dimensions.
Magazines
Amy Newmark and Natasha Stoynoff in 2015 for Chicken Soup of the Soul: Hope and Miracles
Christian Victorino in June 2003 for Connecticut Valley Spectator
Charla Jones in April 2003 for The Montreal Gazette
Randy Moore in October 2002 for Natural Awakenings (Sarasota, Fl.)
Sorah Dubitski in September 2002 for Miracle Journeys (Miami, Fl.)
Rebecca Stevenson in March 2001 for Ottawa Citizen
Joann Impallaria in July 2000 for Sacred Pathways
Pamela Polston in September 1999 for Seven Days
Rosie Modio in the November 1999 issue of Cosmopolitan
Kathy Ulliott in the July 1999 issue of Modern Woman
Anand in Rencontre avec l'Inde, Vol. 25, No 4: 1996, a government of India publication for the French community dedicated to covering cultural contributions of Indian professionals abroad
Author Richard Leviton, in his book Physician (1991) devotes a chapter on his healing experience with G.S. Birla
Author Michael Talbot, in his book The Holographic Universe (1991) cites G.S. Birla as an expert in his field, writing "The lines and whorls in our palms may contain more about our whole self than we realize".