What's Up with the Planets: Special Announcement!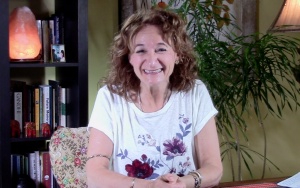 If you are one of the thousands who have enjoyed Guylaine's previous 90-Day Challenges—The Heart Line, Head Line and Life Line Challenges—you'll understand how comprehensive these programs are and how much work goes into creating them. This is why after the June 16th webisode on our Facebook page, What's Up With the Planets will be going on hiatus so that Guylaine will be able to devote all her time and energy to creating a brand-new 90-day Challenge that will debut in the fall. See below for more details.
Introducing The 90-Day Mounts Challenge:
Unleashing the Power of the Planets in Your Hand
Want more love in your life? Join Guylaine as she helps you explore and improve your Mount of Venus.
Need more energy, focus and drive? Guylaine will teach you how to get the most out of your Mars Galaxy.
Want to fulfill your karmic destiny? Guylaine will introduce you to the mystical mounts of Rahu and Ketu.
Looking to enhance your charisma and personal magnetism? Don't miss Guylaine's webinar on the Sun mount!
If you've answered yes to any or all of these questions, then The 90-Day Mounts Challenge is for you!
Beginning on September 22nd in English and September 23rd in French, Guylaine will introduce you to the fascinating world of the mounts. Every week, you will learn how planetary influences are reflected in the hand's ten cosmic energy centers known as the mounts. You will discover how the external energy of the cosmos is at play within the internal universe of the hand.
By knowing the properties of each mount, you can harness the power of the planets and create the life you want . . . a life brimming with health, happiness, love and success.
This and so much more is coming your way. Keep an eye out for details in our monthly newsletter and on our Facebook page.
Register Now and Save Big!
The big launch of The 90-Day Mounts Challenge may be three months away but you can save big now by registering today. The Challenge includes 12 chapters of beautifully illustrated text exploring each and every mount in detail, as well as a dozen 10-15-minute instructional videos hosted by Guylaine Vallée. As a special bonus feature, The Mounts Challenge also includes a weekly one-hour webinar with Guylaine in which participants get to explore the planetary powers of the palm more deeply.
The regular price for the Challenge is $399. But if you register before July 4th 2021,
you will only pay $319, a whopping 20% discount.
Sign Up Before Canada Day and Receive 20% Off
Call us at 819-428-4298, toll-free at 866-428-3799 or click here to send us a message.