The Accidental Astrologer


By Guylaine Vallée, Vedic Palmist-Astrologer
Call me an accidental astrologer. Although I have been practicing Vedic astrology professionally for more than three decades, I didn't set out 30 years ago to study the stars, or the importance of our ascendant sign, or for that matter, how the placement of the planets—in our chart and in the Cosmos—impact every aspect of our lives. My passion for astrology was not stirred by staring upward toward the heavenly constellations, but rather by looking downward into the palm of my hand . . . I fell in love with astrology by falling in love with palmistry.
Few people realize that Vedic astrology and Vedic palmistry are twin sciences. In ancient India, palmistry and astrology were considered, so to speak, to go hand in glove. Sadly, palmistry has become a bit of a forgotten sister that lacks the prestige bestowed upon astrology. I attribute this to the way palmistry has (too) often been viewed in the West, which is more entertainment than science.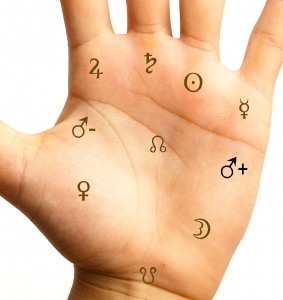 But true Vedic palmistry offers us amazing insights into ourselves and our planets. Indeed, in Sanskrit, Vedic palmistry is referred to as Hast Jyotish, Hast meaning "hand" and Jyotish meaning "the energy of planetary light".  So, when we study Vedic palmistry, we are actually studying the energy of the planets reflected in our palm. And all the planets in the Vedic zodiac are represented in their own individual area of the hand, a fact I became intimately aware of during my first consultation with palmist extraordinaire, Ghanshyam Singh Birla, back in 1984. It was an encounter I will never forget because it changed the course of my life.
At the time, I was an up-and-coming television producer/writer working in Montreal, just back from a long sojourn in Paris. It was kind of a glamorous life for an aspiring young career woman, but truth be told, I was utterly miserable. Nothing in my life gave me fulfillment—I found no joy in my work, my romances, my social life or in myself. I possessed tons of talent and energy but had no purpose into which I could positively direct my passion. I was frantically spinning my wheels like a madwoman but going nowhere; my life lacked meaning, I was at a loss as to what to do with myself and I was convinced I would never find real happiness. That all changed when I met Ghanshyam, who introduced me to the fascinating (and in my case, life-altering) world of astro-palmistry.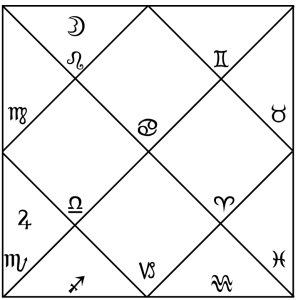 Within minutes of sitting down with Ghanshyam, he had analyzed my chart and my hand. Combining the tools of both astrology and palmistry, he quickly identified the positive and negative planetary influences at work in my life. For example, he told me I was a Cancer ascendant (ruled by Moon), which blessed me with vast reservoirs of mental and physical energy. However, because the "Mount of Moon" in my hand was over-accentuated and stirred up by the presence of a papillary pattern, my energy was frenetic, which had me bouncing all over the place emotionally. That in itself was a revelation as it accounted for the chronic mood swings that I'd suffered from since early adulthood. But Ghanshyam went further, informing that my excessive Moon energy was interfering with my powerful planetary Sun energy (my natural ability to shine in my career and in the world), which was prominently displayed in my palm's Mount of Sun and Sun finger.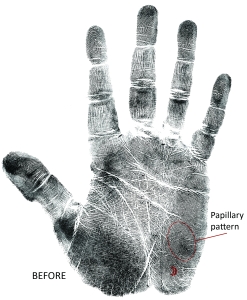 On the positive side, Ghanshyam pointed out that, having Jupiter in Scorpio in my 5th house aspecting an exalted Cancer, I possessed an innate ability to help others improve their lives and find purpose and meaning, which had always been an elusive dream of mine. He added that, in order to make that dream a reality, I would have to develop a "Ring of Solomon" on the Jupiter Mount of my hand, which he described as a "smiling" semi-circle just below my index finger that was considered a "wisdom sign".
I was so captivated by how astutely Ghanshyam identified my issues and desires through astro-palmistry that I took everything he said to me to heart, which brings me to what I most love about Vedic palmistry. You see, in Vedic palmistry the lines and signs of our hand reflect who we are and the state of our overall well-being in body, mind and soul. Our palm is also a true reflection of how the power of our planets is being manifested in our lives.
While our planets remain fixed, how we are dealing with them is seen by the changing lines and signs on the related planetary zone in the palm. Exalted planets in our chart, might not be activated as seen by an inactive mount, negative planetary positions might show that we have overcome them by positive wisdom markings appearing on the respective mount. Our astrological chart, therefore, helps us zero in on what needs to be highlighted or repaired. Handprints taken at regular intervals show the changes we are making—a phenomena that allows us to literally outwit our stars by consciously avoiding negative Cosmic influences while embracing and emphasizing the positive ones.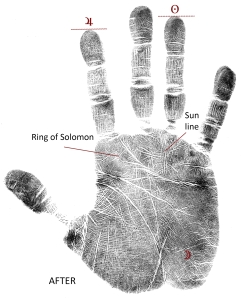 I must admit, I was a little skeptical when Ghanshyam first told me I could change the lines and mounts of my hand by making a few simple changes in my thoughts, attitudes and lifestyle. But I soon discovered we cannot only change our lives by changing our lines, but we can actually see and monitor those changes as they are taking place with the use of "before and after" handprints. Over the decades I have witnessed major positive change occur in the lives of hundreds of my clients—just as I witnessed them take place in my own life.
After my first consultation with Ghanshyam I made a few adjustments to my lifestyle (learning to meditate and doing volunteer work, for example) that allowed me to calm down, focus my energy and become a more conscientious, purpose-driven individual. As a result, vast improvements appeared in the planetary zones of my hand—my Mount of Moon became balanced, my Sun line deepened and a Ring of Solomon appeared on my Mount of Jupiter. I was so amazed by how astro-palmistry positively transformed my life that I dedicated myself to the study of both Vedic palmistry and astrology, eventually developing my own thriving practice. Helping others through astro-palmistry has not only filled my life with meaning, it has given me a deep-rooted sense of personal happiness and joy that deepens with each passing year.
My hope in writing this little story is that some of you may be inspired to put a bit of time aside during the New Year to become acquainted with Vedic palmistry, the long-lost sister of Vedic astrology. Who knows, you may become an accidental palmist, too? At the very least you will gain a new and powerful method of interpreting your planets. And, if you are like me, find happiness and joy along the way.
Register to our June 9th Webinar:
Coping with a Major Shift in the Cosmos
During our June 9th webinar, we will explore the astrological chart and analyze the major shifts occurring that month. We will identify and neutralize emotional triggers before they can disrupt our peace of mind and the happiness of those around us.
To register or for more information, click here
The Author
Guylaine Vallée is a teacher and consultant at the Birla Vedic Center. In her more than 35 years as a professional Palmist, she has helped thousands of clients improve their lives and has inspired tens of thousands lecturing across North America and through her many webinars.
If you want to keep in touch with promotions and events, sign up for our free monthly newsletter: click here.
For more information about Guylaine's 90-Day Challenges, click here.
https://birla.ca/wp-content/uploads/2017/02/Planets-in-the-hand-sm-AS.jpg
900
1500
Guylaine Vallée
http://birla.ca/wp-content/uploads/2017/11/logo-eng.png
Guylaine Vallée
2022-05-16 13:45:41
2022-05-18 14:36:23
The Accidental Astrologer