Biting Your Fingernails is like Biting Your Brain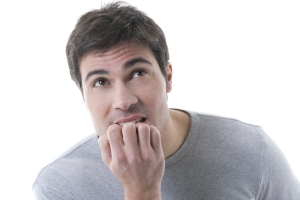 Our fingernails are nature's way of protecting the sensitive nerve endings of the fingertips. Vedic palmistry refers to the fingernails as the shield, or armor, of the human brain and nervous system—they insulate and protect us from the jarring hurl-burly of the physical world, ensuring we can remain calm in our day-to-day encounters.
Biting our nails is akin to a soldier stripping off his protective armor in the midst of battle—we are exposing ourselves to the slings and arrows of outrageous fortune. It is also a sign that we are mentally troubled, preoccupied or uneasy in our own skin—any of which is detrimental to our peace of mind and overall well-being.
It is important for us to recognize nail biting as an unhealthy habit (we can ingest bacteria and damage the nail plate or surrounding tissue) as well as a symptom of a deeper physiological issue or nervous disorder. Persistent nail biting can be related to obsessive-compulsive disorder. Once we have identified the disorder, Vedic palmistry has a vast array of tools we can use to correct it—from reaching for a glass of water when we feel the urge to chow down on our fingertips to changing our thoughts and behavior patterns.
Silencing the voices
Nail biting is a sign that our mind is not at peace. When our mind is restless, troubled or unfocused, we are unable to control or even decipher our thoughts, let alone be inspired by them. The tangled thoughts of a distraught, worried or afflicted mind can guide us in harmful directions and instead of finding happiness, we encounter disappointment, sadness and even depression.
Cutting-edge advancements in neuroscience have proven that the average person has between 60- 80,000 thoughts each day and that the majority of those thoughts are negative and self-defeating. Indeed, many people often hear a nagging inner voice constantly reminding them they are not good enough, smart enough or deserving enough to be loved, happy and successful. Over time, that unhealthy messaging actually alters the physical makeup of the brain, trapping us in an endless loop of negative thinking that takes us nowhere and leaves us miserable.
A Quantifiable, Measurable Science
Much like modern neuroscience, the ancient science of Vedic palmistry teaches us that our thoughts make deep impressions (or grooves) in our brain, impressions that can come to dominate our mind. But where Vedic palmistry and neuroscience differ is that palmistry shows us the origin, nature and quality of our thoughts. If our thoughts are angry, bitter, jealous or confused, our hand will tell us why and what we need to do to correct the situation.
If you are a compulsive nail biter or want to get rid of another ingrained habit like obsessive worrying, we invite you to check our 90-Day Program: Head Line Challenge: Thinking Your Way to Happiness. It is a powerful tool of self-transformation and self-improvement. This unprecedented approach to mastering your thoughts enables you to tap into the unlimited potential of your mind.
The Challenge could very well be the greatest investment you ever make—an investment in yourself that will help you use the power of healthy, unburdened thinking to create the life you've always dreamed of living in only 90 days.
Click here to find out more about our 90-Day Head Line Challenge.
http://birla.ca/wp-content/uploads/2017/11/logo-eng.png
0
0
Guylaine Vallée
http://birla.ca/wp-content/uploads/2017/11/logo-eng.png
Guylaine Vallée
2022-06-16 19:26:05
2022-06-17 19:25:13
Biting Your Fingernails is like Biting Your Brain