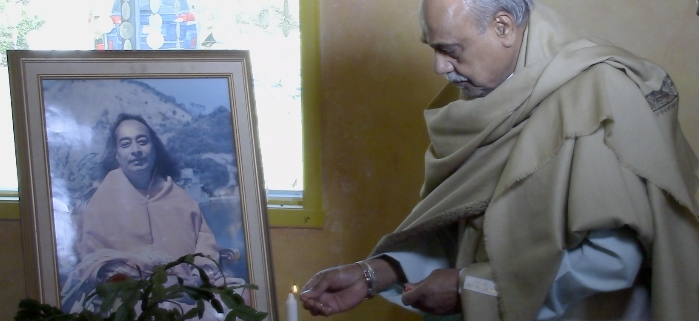 By Ghanshyam Singh Birla
Havens are sacred fire ceremonies that have been practiced in the East for centuries. The intention of a haven is to provide us with a renewed sense of hope, purpose and happiness by burning away negative karma and connecting us to our spiritual self . . . our best self.
I am conducting the haven at this time because today is Akshaya Tritiya, which is  one of the most auspicious days of the year. Akshaya means never-ending prosperity, hope, joy and success. It is celebrated just once a year . . . when the two celestial luminaries, the Sun and Moon, are in their most exalted position of Aries and Taurus respectively. When we perform any healing ceremony on Akshaya Tritiya, it raises our vibrational energy. So, no matter when you happen to watch this video, those elevated healing vibrations will be reverberating both around you and within you.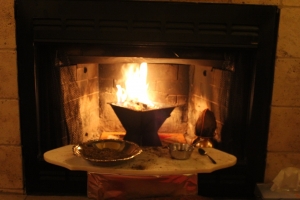 Havens involve a mantra meditation. At the end of each mantra, a small offering is placed in the fire, such as a sacred herb or some ghee, while the word swahah is chanted.  Swahah means "so be it"; it a personal offering to the universe, an offering that includes a silent commitment that we endeavour to become the best we can be. When the offering is made, visualize that you are offering the herbs in the fire with your right hand while supporting your right elbow with your left hand. As you chant swahah, gently release the herbs into the fire with a sense of gratitude.
The ceremony begins with a prayer that is offered to the Divine to accept our offering and to overlook any mistakes we might make while pronouncing the mantra.
Forgiveness Prayer
Awahanam nay jaw naw mee
Nay jaw naw mee tawarchanam
Poojashchaiva nay jaw naw mee
Tataha kshama swa Mameshwara
Following the Forgiveness Prayer, I recite the Ganesha Prayer. Ganesha is the Lord of Wisdom and the Divine Sciences. This prayer, recited as a mantra,  promotes your personal healing and increase your intuitive abilities.
Throughout the haven, I chant a mantra to Lord Shiva called the Maha Mrityunjaya Mantra. It is a very powerful mantra for raising our vibrational energy, warding off negativity and getting rid of unwanted karma. It is chanted in its original Sanskrit, India's most ancient and sacred language.
Maha Mrityunjaya Mantra
Aum Treeum Backum Yajaw Mahay
Soogum Din Pushtee Were Ta Nam
Urwa Rookum Eva Bantanan
Mrityor Moke Shiya Mamritat
If you are familiar with the Shiva mantra, please chant along with me. If not, just sit back, close your eyes and listen. In either case, chant swaha at the end of each mantra and visualize that you are placing the herbs into the fire when I do.
I chant the mantra 108 times. You will hear a bell ring at the end of a series of 36 mantras. It would be wonderful if you stay with us for the full 108 mantras. If you cannot watch the entire ceremony, it is best to end your recitation at a multiple of 9—such as at the end of the 9th, 18th or 36th recitation. Listening for the bell will help you in this regard.
But if at all possible, please stay until the end of the haven. Chanting or listening to all 108 mantras in one sitting will benefit you greatly.
We close the fire ceremony with the following short mantra:
Closing Mantra
Servam Way, Survam Guam, Swahah
Normally we end the meditation with a sweet. So, have a little rice pudding or a piece of chocolate standing by to treat yourself as a celebratory way to kick off a new beginning and a new you.
Thanks for being here and God bless you!
Click here to view the ceremony:
https://birla.ca/wp-content/uploads/2020/05/GS-Haven-Thumb-copy.jpg
450
699
Ghanshyam Singh Birla
http://birla.ca/wp-content/uploads/2017/11/logo-eng.png
Ghanshyam Singh Birla
2020-05-12 20:29:44
2021-01-24 14:44:21
Fire Ceremony (Haven)