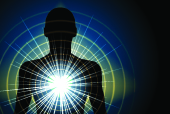 By Ghanshyam Singh Birla, Vedic Palmist-Astrologer
One of the greatest lessons Vedic Palmistry has taught me is that, no matter how old we are, it is never too late to fill our lives with love. The energy of love is the energy of Sat—it is eternal and omnipresent. Love brings us into this world, remains with us constantly during our lifetime and will carry us into the next life. There is never a time, from birth to death, when we are not surrounded by love.
But wait just a minute, you say! If love really is all around us, why can it be so hard to find? Well, because too often we can't see what's right in front of us. Our egos, desires, daily concerns, hardships, personal tragedies and imbalances in our energy can blind us to love's constant presence, and it's difficult to embrace what we cannot see. Sometimes, especially as we get a bit older, we may find ourselves regretting the times in our lives when we had the chance to express our love but didn't or regret that we did not love as well as we might have. We may feel that love has passed us by, or that it's too late for us to love. But I am here to tell you that love never passes us by—that it's never too late to feel and express love! Even if it sometimes seems elusive, love is everywhere in our lives—just follow your heart line and you'll find it waiting for you.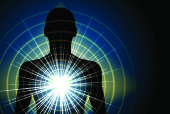 When we balance our heart line and open our heart center, we make the invisible visible . . . we become aware of the love that we might have missed due to our lack of mindfulness, sensitivity or receptivity—and we can pull that new understanding of love into our present life and let it guide us into the future. In this respect, the heart line is like a time machine—it can transport us between all the ages and stages of our life on an amazing journey of the heart. And Vedic Palmistry teaches how to navigate that machine.
A HIGHER LOVE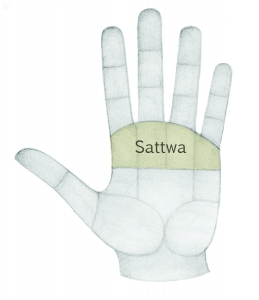 The heart line is located in the sattwa zone of the hand, which represents the most evolved aspects of our consciousness and is intimately related to our soul. Sattwa energy is our spiritual compass; it vibrates with a purified light that points us toward the Divine within. It is an energy that is timeless and, when balanced, frees us from the heavy, anchoring demands of daily survival. The heart line can lift us high above mundane concerns; it is shrouded in sattwa energy, which means it is designed to express the eternal, idealistic qualities of unconditional love. A healthy and balanced heart line tells us we are being guided by an enlightened consciousness, both in our life and in our loving relationships.
As it travels across the palm, the heart line is supported by the four mounts of the hand's sattwa zones. Each of these mounts represents the attributes of a corresponding planet in Vedic Astrology, and each interacts with the heart line differently at different times in our lives.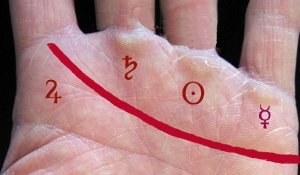 Originating on the Mount of Jupiter, the heart line crosses the mounts of Saturn and Sun before terminating on the Mount of Mercury. The Mount of Jupiter represents our higher self, our enlightened, expansive nature, as well as our life's purpose; Saturn represents our fortitude, discipline and dedication; Sun represents our love of life and personal magnetism, and Mercury represents our ability to communicate our creativity, ideas and concepts to the world.
Each of the four sattwa mounts infuse the heart line with their individual sattwic qualities, which include kindness, goodness, generosity, compassion and empathy—the cornerstones of unconditional love. It is these sattwa mount qualities that give the heart line its transcendent nature—the dynamic fuel that allows the heart line to transcend both the laws of time and gravity.
For more info on The 90-Day Heart Line Challenge or to register: click here

.
https://birla.ca/wp-content/uploads/2020/04/Energy-of-Love-AS.jpg
114
170
Ghanshyam Singh Birla
http://birla.ca/wp-content/uploads/2017/11/logo-eng.png
Ghanshyam Singh Birla
2020-04-30 20:46:01
2021-05-26 16:33:50
Healing with The Heart