The Heart Line: The Barometer of Our Loving Disposition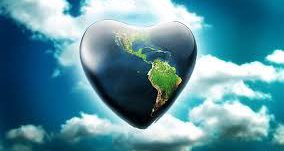 There is no greater source of energy than our heart and its capacity to love. The study of the heart line is our guide to understanding and developing this powerful force. Studying the heart line allows us to see how our feelings influence our personal happiness and the happiness and harmony of those around us. By understanding and monitoring the development of the heart line, we will learn about our personal approach to love, how we can grow and improve it, and how we can make it last.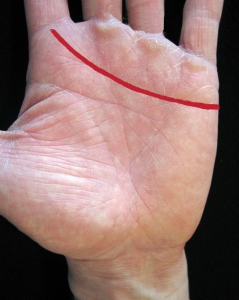 The heart line gives us information about our temperament, as expressed through our feelings, moods, and emotional responses as well as our emotional stability. The heart line also indicates the degree to which we can absorb emotionally shocking experiences and psychological traumas, and our capacity to recover from them. Furthermore, the timing of significant events throughout our lives can be deduced from the heart line, including major and minor emotional influences—both positive and negative—and the relationships we may attract. In other words, the heart line can tell us who we choose to love, why we love them, and the impact that love has on our psyches.
On a spiritual level, the heart line indicates our willingness and our potential to sacrifice for someone else, or for a need or cause greater than our own. An open-heart center expands our self-awareness, which will foster and encourage the growth of our most noble attributes, such as sincerity, generosity, compassion, forgiveness and our ability to experience the joy and bliss associated with the expression of divine love.
When it comes to connecting with others, the heart line reflects our potential to develop and maintain successful, meaningful relationships. As connecting with our heart enables us to develop deep spiritual roots, a healthy and balanced heart line makes us self-sufficient emotionally. Our heart line can become a deep reservoir of emotional strength that allows us to shed our dependence on the whims, desires and expectations of others, our reliance on social status, and our psychological attachment to money or possessions. In developing the heart line and opening the heart center, we will also become more empathetic to the emotional needs and makeup of those around us, intuitively acquiring the social skills and personal wisdom needed to build interpersonal rapport and trust, manage relationships, and resolve or prevent conflict.
These truths are encapsulated in one of my favorite sayings of Mother Teresa, a beautiful saint that I had the great privilege and blessing to meet in Calcutta. Mother Teresa said, "It is not how much we give, but how much love we put into giving."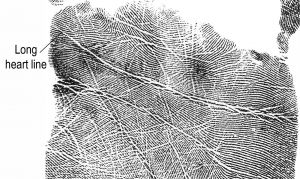 An open heart is reflected in our hand in the form of a long, deep, upwardly curving heart line. This is an ideal heart line—it is healthy and balanced. In Hindi, the heart line is referred to as hradaya rekha. The root word hra means "the potential to give and the capacity to receive". When the heart line is balanced, healthy and functioning smoothly, our lives will reflect a spontaneous and continuous cycle of giving and receiving love in all its manifestations: physical, sexual, emotional, psychological and spiritual. According to Vedic Palmistry, the heart line is a gauge that measures our emotional and spiritual well-being.
When the heart center opens, we experience a personality transformation. When we reach this level of personal evolution, sharing our true feelings with the world and uniting, motivating and inspiring others will become a natural expression of our innate creative energy. We become capable of giving and receiving love purely, without expectation, qualification, demands or conditions.
Neuroscience and Palmistry
Neuroscience has proven that by changing our thoughts and attitudes we can physically change the neural pathways in our brain. By adjusting our thoughts, we can reprogram and fine-tune our own emotions in search of happier, more productive lives. Palmistry allows us to do exactly the same thing, but the real beauty of palmistry is that these changes are measurable and verifiable—when we change our thoughts and attitudes, the lines in our hand will change accordingly. We can actually see this change occur by taking our handprints at regular intervals.
By changing our thoughts and attitudes toward ourselves and others, we will change our heart line, open our heart center, and change our lives forever. In time, (in as little as 90 days) we can literally turn our love lives around by reprogramming our thoughts and feelings.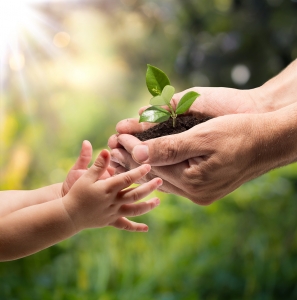 Inspirational speaker and author Dr. Joe Dispenza writes: "The subconscious accepts as true that what you feel as true, and because creation is the result of subconscious impressions, you, by your feeling, determine creation. By planting seeds you will see that in time they bear fruit. So just surrender. It has to sprout into your outer life. It is the law."
So, we must ask ourselves, "What seeds do I want to plant? What kind of life do I want to grow? What attitudes and feelings are most important for me to develop in order to create the life I want?" We can answer these questions by learning about the purpose and function of our heart line. That is what we want to help you achieve with The 90-Day Heart Line Challenge.
The 90-Day Heart Line Challenge: Open Your Heart to Love, Joy and Happiness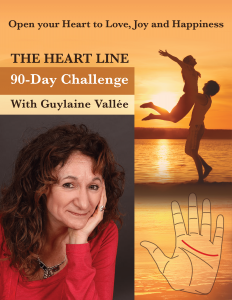 During these challenging times, when so many of us are confined inside our homes, we have an opportunity to look within ourselves. We have just the program to help you do that and we are offering it at a special 'we are all in this together' price.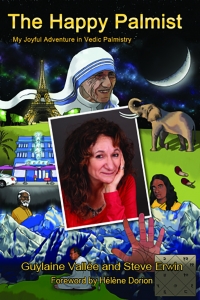 Expand your heart and invite more love into your life in just 90 days with the Birla's Heart Line Challenge. The Challenge includes weekly online coaching sessions with North America's favorite Vedic palmist, Guylaine Vallée, author of the bestselling biography, The Happy Palmist: My Joyous Adventure in Vedic Palmistry. With your do-it-yourself Handprint Kit, you can actually witness your heart line growing stronger as you will be able to take your handprints at the beginning and at the end of the Challenge.
Take The 90-Day Heart Line Challenge—your heart will thank you, so will the people you love.
Click here for more information about The Heart Line Challenge or to register.
Call us at 866-428-3799 from Canada or the U.S.
You can reach us from anywhere in the world by calling: 819-428-4298, or click here.
https://birla.ca/wp-content/uploads/2020/04/earth-heart.jpg
151
284
Guylaine Vallée
http://birla.ca/wp-content/uploads/2017/11/logo-eng.png
Guylaine Vallée
2020-04-02 10:25:48
2021-05-26 17:06:56
The Heart Line: The Barometer of Our Loving Disposition