Marcus: Broken Girdle of Venus, Broken Dreams

Marcus was a talented young animator from a small Canadian town who, despite his inherent shyness, applied for a job at a major Hollywood film studio. While riding the bus to the interview, a female passenger became trapped in the vehicle's rear doors when they shut on her foot. Marcus felt her pain as acutely as if it were his own; he rushed to help the woman but he was overwhelmed with emotion and fainted before reaching her. When he opened his eyes he was laying next to her on the street as paramedics treated both of them. Marcus missed the interview and didn't get the job. The next day he booked a consultation with me.
"Ghanshyam, I've been like this all my life," he said, holding his trembling hand out for me to study. "Ever since I was a kid, people's emotions have washed over me like a tidal wave—I feel like I'm constantly drowning. I'm 28 and have never kissed a girl. I can't even show up for a job interview without passing out. I have my art, but I do that in my room, alone. Please help me—this loneliness is killing me."
Examining his hand, I saw that Marcus had a fragmented Girdle of Venus, which I suspected was a major contributor to his troubles.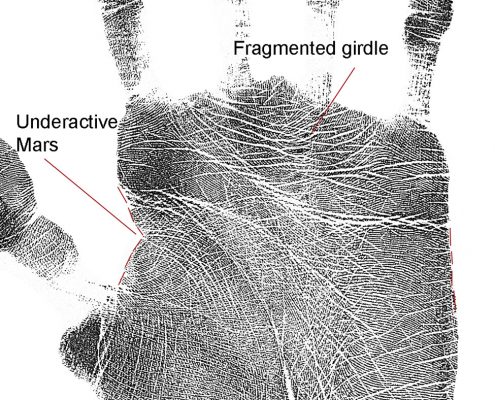 The Girdle of Venus has been described as a divine smile permanently stamped on our hearts as an inspiration to others. Ideally, it forms a gentle arc in the upper region of the palm linking Jupiter, Saturn, Sun and Mercury, the four mounts housing our highest forms of energy. The Girdle's close proximity to the heart line reflects a deep capacity for empathy and an intimate connection with the spiritual realm. It also reveals a powerful creative energy that compels us to express the beauty and love within our soul. Many artists, humanitarians and those devoted to serving God possess a Girdle of Venus.
Unfortunately, a perfectly formed Girdle of Venus is rare; it is much more common to find a fragmented Girdle, like Marcus's. A broken Girdle of Venus reflects pent-up passion and blocked creativity. In Marcus's case, the broken Girdle of Venus, exacerbated by an underdeveloped Mars, denoting a depletion of energy, can result in feelings of insecurity, over-sensitivity, moodiness, frustration and erratic or self-destructive behaviour.
Marcus's emotional sensitivity was crippling him socially and professionally; he was in danger of losing his ability to function in society, as his ill-fated bus ride painfully illustrated. I suggested he begin a daily meditation routine to center his energy, and taught him breathing exercises to keep his emotions in check. I also encouraged him to be less self-absorbed by being of service in his community, and to surround himself with caring people who would support his efforts to interact in the world in a helpful and healthy manner.
Marcus made steady improvement and, over the course of a year, his Girdle began to mend. Sadly, we fell out of touch when he moved to another town. I pray that wherever he is today, Marcus has a smiling Girdle of Venus in his palm, and a smile of happiness on his face.
If you would like to develop or repair your own Girdle of Venus, give us a call at 866-428-3799, or complete the form to book a consultation. We're here to help.
https://birla.ca/wp-content/uploads/2016/07/marcus-broken-girdle-venus-broken-dreams-1.jpg
714
1200
Ghanshyam Singh Birla
http://birla.ca/wp-content/uploads/2017/11/logo-eng.png
Ghanshyam Singh Birla
2016-07-27 22:55:21
2016-07-27 22:55:21
Marcus: Broken Girdle of Venus, Broken Dreams