Make it a Kinder, Gentler Valentine's Day

The Cosmos is sending out a Valentine's Day message for lovers everywhere this year—on February 14th you will win over more hearts by practicing patience and kindness than by handing out flowers and chocolates.
Why? Because on Valentine's Day, five planets will be in Capricorn, intensifying an already stressed situation. Furthermore, Saturn in Capricorn is squared by Uranus, which adds even a greater strain to an already taxing time. What this planetary traffic jam tells us is that there is conflict between our wish for peace and order and our desire to break free of restrictions.
Fortunately, the Moon is in the compassionate sign of Pisces, which can soften our hearts to express our love and gratitude to all those close to us on this special Day.
It is important to remember that true love—which St. Valentine's Day symbolizes and celebrates—is based on a selfless love that arises from compassion. So please, be especially patient, gentle and kind with your Valentine (and everyone else) on February 14th and throughout the year.
We encourage you to connect with the boundless love radiating within your soul and allow the tenderness of an open heart to guide you in all your interactions with others. The feelings of warmth and goodwill generated by a kind action or gentle word will last far longer than a single day and will return to you many fold.
Of course, chocolates and flowers are always appreciated!
Happy Valentine's Day!
Let Your Love Shine with Our Two-For-One February Special!
To promote and celebrate lasting love everywhere, we are offering a Valentine's special for family, friends and lovers throughout the month of February!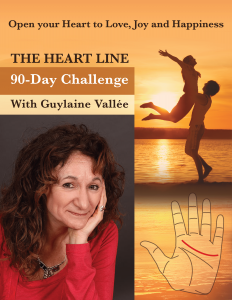 When you sign up with a loved one for our Self-Paced 90-Day Heart Line Challenge this month you will receive a receive a 20 % discount on enrollment. What better way to learn about love than with a loved one at your side, be it your spouse, child, teenager, parent or lover. It is the perfect Valentine's gift to present to yourself or that special someone!
The Heart Line Challenge is designed to connect you with your heart and help you develop deeper feelings of love, compassion and kindness. Taking the program with someone you care for makes it all the more powerful. Whether you are looking to bring the romance back into your relationship, deepen loving family ties or simply become a more loving person, the Heart Line Challenge is for you. And because it is self-paced, you can do it whenever you have the time or are in the mood. What better activity for a date night than learning how to love the person you're with more deeply? Don't leave your heart waiting—this special offer expires at the end of February.
Give us a call toll-free at 866-428-3799, 819-428-4298 or click here for more info.
https://birla.ca/wp-content/uploads/2021/02/Valentines-banner-2021-DP-scaled.jpg
810
2560
Guylaine Vallée
http://birla.ca/wp-content/uploads/2017/11/logo-eng.png
Guylaine Vallée
2021-02-07 20:06:38
2021-02-09 09:41:27
Make it a Kinder, Gentler Valentine's Day