Celebrating the Great Night of Shiva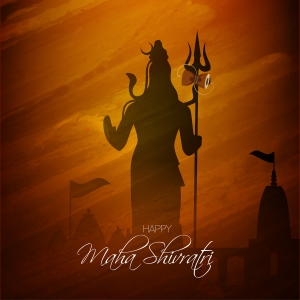 We are currently experiencing a rare Shoola Yoga, where all the planets are situated in only three signs affecting three houses related to specific areas of your life. This accentuates those areas, making things very intense for us. This yoga with its concentration on three houses corresponds to the three-prong trident, or tri-shoola, Lord Shiva uses to ward off negative energy threatening to disrupt the harmony of our body, mind and heart.
Consequently, this yoga is considered auspicious if we approach it with reverence and respect. During this period, prayers and devotion will be rewarded with good fortune. As we mentioned, the energy of the Shoola Yoga is so powerful because all planetary energy is being concentrated in just three houses. If we can channel this energy calmly and purposefully, we will achieve a great deal of success. However, if we fail to direct this intense energy constructively it can overwhelm us.
If we are able to remain focused, flexible, and patient and adapt to the surge of concentrated cosmic energy, we can achieve miracles and move mountains.
What makes this Shoola Yoga so special is that it coincides with Maha Shivaratri, the 'Great Night' of Shiva, the Lord of yoga, meditation and transformation.
This year, Maha Shivaratri falls on Thursday, March 11th.
It is said that during Maha Shivaratri we gain many blessings by reciting the name of Lord Shiva: Aum Namah Shivaya, by chanting the Shiva mantra, Maha Mrityunjaya. Also, we invite you to experience a Maha Shivaratri fire ceremony with Ghanshyam on our YouTube Channel.
For any questions, call us toll-free at 866-428-3799 from Canada or the U.S.
You can reach us from anywhere in the world by calling: 819-428-4298, or click here.
http://birla.ca/wp-content/uploads/2017/11/logo-eng.png
0
0
Ghanshyam Singh Birla
http://birla.ca/wp-content/uploads/2017/11/logo-eng.png
Ghanshyam Singh Birla
2021-03-08 19:09:12
2021-03-09 19:12:53
Celebrating the Great Night of Shiva