Journey Toward a Meaningful Life: Robert's Story

Despite having a B.A. in comparative literature, Robert had no idea what to do with his education or his life. At 26, he was drifting unhappily through a series of odd jobs, including washing dishes at a restaurant a few blocks away from Birla Vedic International. One afternoon he wandered into my office, said he was miserable and asked for a consultation. Even a quick look at his hand told me that the root of his unhappiness was his utter lack of a destiny line—in other words, Robert had no purpose in life.
Lacking a purpose in life is more than an existential crisis—it is a potentially dangerous condition that can rob us of our health and happiness. The Diagnostic and Statistical Manual (DSM)—used by caregivers around the world to diagnose mental illnesses—links a "lack of purpose" with depression, borderline personality disorder, drug addiction and even suicide. You know you lack purpose if you experience a nagging sensation telling you: There must be more to life than this! Well, there is more—it is purpose.
But finding your purpose takes work; it doesn't simply mean having a job, a profession or a role to play in our family or society. If our careers or duties are not driven by a deep-seated purpose, they are merely occupations and we crawl out of bed in the morning instead of embracing each day as a blessing and a new opportunity to shine in the world.
Raising our kids, doing our best at work or labouring to put food on the table provides us with an external purpose, but if that purpose does not come from within, it is unanchored, fragile and can be shattered by changing circumstance. The death of a spouse or child, the loss of a job, the realization we are in the wrong career or a bad marriage, or the prospect of a forced retirement can drain us of the meaning we thought our lives had—leaving us with only hopelessness and despair.
Our real purpose comes from deep within; it can be hard to find and even harder to sustain over a lifetime. But if we succeed—despite any hardship or heartaches we encounter—we will create a happy and healthy existence driven by a strong sense of meaning and steering us toward personal fulfillment and enlightenment. Finding and developing our purpose will enable us to lead better lives and help us make this world a better place for everyone.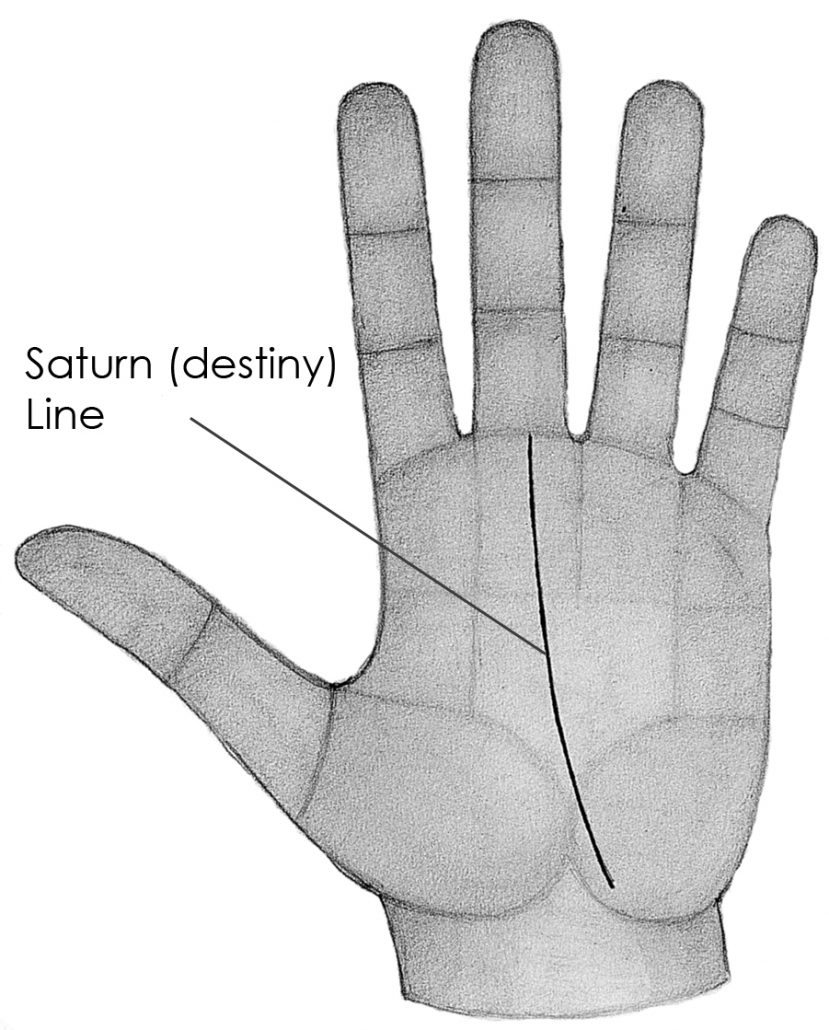 In palmistry, the Saturn line—also known as the line of destiny—is a good indicator of our depth of purpose.
In Robert's case, the presence of a Mercury line shows an ability to apply himself, enabling him to earn a B.A.—but the complete absence of a Saturn line indicated a lack of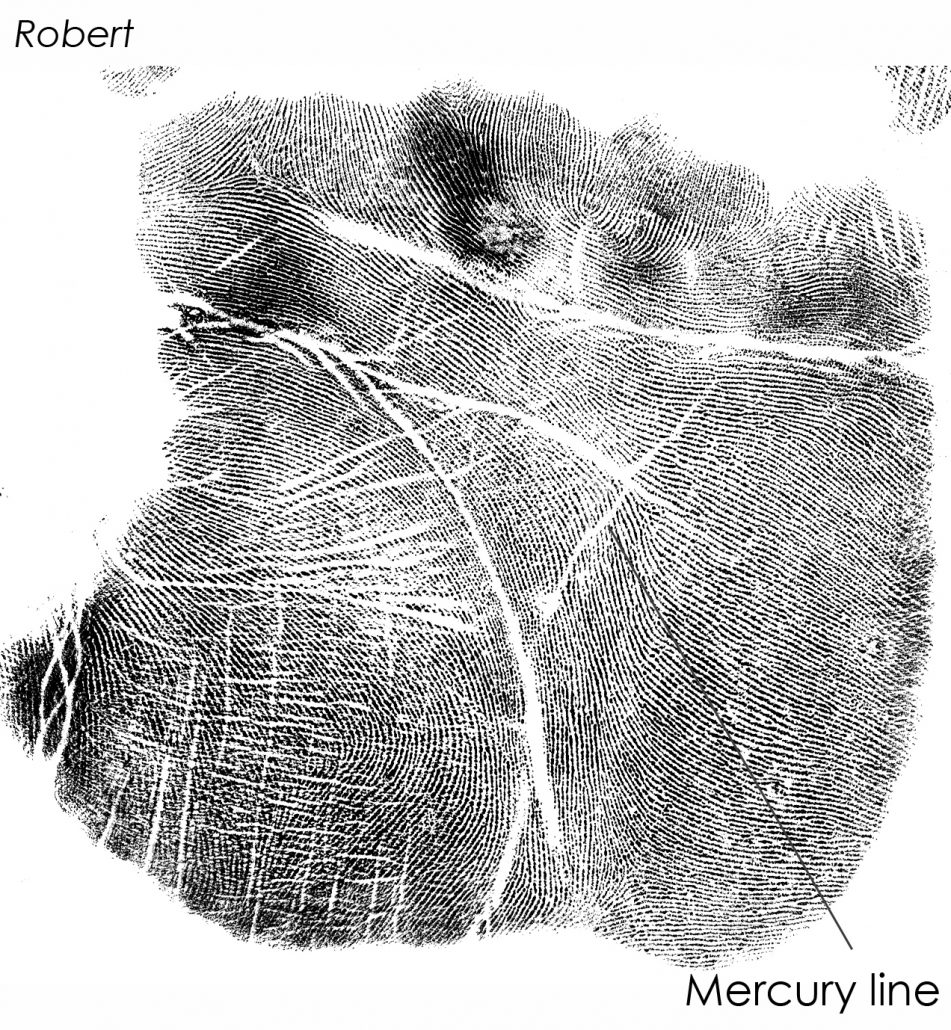 deep-seated purpose. So he had an education, but no calling . . . and he wasn't searching for one. He passed his time earning rent money, watching television, and becoming more and more depressed. With no hobbies, passions, causes or supportive friends to encourage or challenge him to set his sights higher and strive for excellence, Robert fell into a mechanical routine of daily survival, leaving him restless, bored and completely unfulfilled.
I encouraged him to grow his Saturn line by becoming more introspective; I urged him to read books, take up yoga or meditation, become a community activist—anything to expand his horizons and engage his heart and mind, so long as it stirred his passion and required a deep commitment. I assured him that igniting his passion would lead him to his purpose, and that a purpose-driven life is one that promises us happiness, contentment and rich spiritual rewards that will generate inner joy and inspire those around us.
Robert dropped by a few months later to let me know that, although he was still washing dishes to pay the rent, he had started writing film reviews for a community newspaper and had written the first chapter of a novel. He wasn't sure if writing was his true purpose, but it was a good place to start looking for it.
Are you looking for your true purpose? Vedic palmistry and astrology can help. Give us a call at 866-428-3799 or book a consultation by clicking here. We're here to help.
Did you find this article helpful? Leave us a comment and let us know.
https://birla.ca/wp-content/uploads/2016/12/Purpose-AS.jpg
1600
2400
Ghanshyam Singh Birla
http://birla.ca/wp-content/uploads/2017/11/logo-eng.png
Ghanshyam Singh Birla
2016-12-21 09:33:34
2021-05-26 17:17:08
Journey Toward a Meaningful Life: Robert's Story