Hugh's Union Lines: When Enough is Never Enough

Hugh was a 30-year-old palmistry student with movie-star good looks and piercing blue eyes that lit up when he laughed. He was searching for enlightenment, but that changed after his father died. He inherited a multi-million-dollar business but had no interest in working anymore. He wanted to be a playboy; he sold the company, broke up with his girlfriend and set out to travel the world.
Six months later Hugh returned for a consultation. He was laughing and his blue eyes shone brightly as he showed me his hand. I smiled too, until I saw the number of union (marriage) lines on his mount of Mercury. The Mercury mount is known as the domain of Buddha—it reflects our ability to find inner peace and contentment and not be distracted by the many persuasions of the material world. Hugh had so many broken and crisscrossing union lines that I knew he'd found very little inner peace and was extremely attached to material and physical pleasure.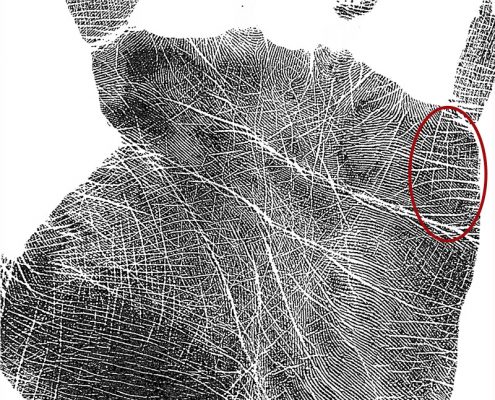 Ideally, our mount of Mercury has a long, single union line that is straight, deep, and free of interference—a formation that reveals a yearning for a loving and committed relationship. It is not unusual to see several union lines, reflecting a number of relationships over the course of a lifetime. But I needed a magnifying glass to count all of Hugh's jagged, short-lived and blocked lines of union. Hugh had been a good palmistry student and knew why I looked worried.
"I know what you're thinking Ghanshyam—yes, I've had plenty of girls, and I even got dumped by my latest . . . so what? I've got a girl in every port," he laughed. "The world's an ice cream parlor with a thousand flavors. Why not sample them all?"
"But Hugh, this hedonistic attitude isn't healthy," I said. "You have great potential to love and be loved, but you're squandering it by allowing yourself to be ruled by desire. Your appetite is a bottomless pit that can never be filled—you'll never have enough to satisfy your hunger. If you spend your life searching for happiness by buying things and having flings you'll miss out on what's real, you'll never be happy."
"Ghanshyam, I'm young and rich—I can buy happiness."
Three years passed before I saw Hugh again. This time his eyes were dull and he looked miserable. His Mercury mount was depleted and crammed with chaotic union lines.
"You were right about never feeling satisfied, Ghanshyam," he said. "How can I find peace and happiness?"
"Begin with daily meditation," I suggested. "Seek happiness within—develop a spiritual relationship, it is the only relationship that offers lasting peace and joy."
I don't know if Hugh took my advice—he never came back. But I know this: Palmistry reveals both our negative proclivities and our positive potential—it is up to us to decide what to do with the information the palm of our hand has to offer.
Come and see us to analyze your union lines. We're here to help. Call 866.428.3799 or click here to book a consultation.
https://birla.ca/wp-content/uploads/2016/09/hughs-union-lines-enough-never-enough.jpg
852
1280
Ghanshyam Singh Birla
http://birla.ca/wp-content/uploads/2017/11/logo-eng.png
Ghanshyam Singh Birla
2016-09-05 07:17:24
2016-09-05 07:49:07
Hugh's Union Lines: When Enough is Never Enough