Defeating the Duality of a Double Head Line

Marie-Christine first came to see me when she was 18 years old and in her first year of college. She was bright, pretty and charming, but unhappy.
"I don't know what to do with my life," she told me as I studied her handprints. "One day I want to be a doctor, the next day I want to be a scuba instructor, the day after that I want to be a painter or maybe work with children . . . or quit school and travel the world. There's so much I want to do in life, but I'm getting nowhere. I can't even commit to one boyfriend—I keep dating guys who are totally wrong for me because they're fun, then I stay up all night and miss morning classes. I want to have a career and start a family one day, but it seems hopeless. I'm really lost—can you help me?"
"I'm here to help," I smiled. "Let's take a look at your handprints and see what's going on with you."
I wasn't surprised to find two head lines in Marie-Christine's palm, which is not uncommon in multi-talented individuals. A double head line signals a duality of mind in an individual who is gifted in so many areas that they become too restless or bored too easily to pursue just one. Marie-Christine was being pulled in many directions and reluctant to say no to any experience for fear of missing out on all life had to offer. But her inability to settle on a single career path or romantic partner was preventing her from reaching her full potential, which was reflected in her broken Saturn (or destiny) line. And her indecisiveness was making her miserable.
"We have to mend your destiny line and forge your two head lines into one," I told her. "I suggest you stop dating for at least a year and focus completely on your studies. Find the subject you are most passionate about and pursue it with all your heart and mind. Ask your family to help you, it is important for you to have a supportive environment."
Marie-Christine told me that her parents were divorced and she was essentially on her own—both financially and emotionally. She asked me to be her coach and I happily agreed.
At first it wasn't easy for her to make choices and stick by them, but she persevered and it paid off. She enrolled in child psychology and proudly showed me her straight-A progress report every month—and every month her head and destiny lines showed signs of improvement.
Last year—15 years after we first met—Marie-Christine returned to my office. This time her prints revealed a strong and solitary head line and a healthy, unbroken destiny line; she was running her own successful clinic helping troubled youth, was in a loving relationship and the mother of two young children of her own. She had defeated the duality in her palm and was singularly happy.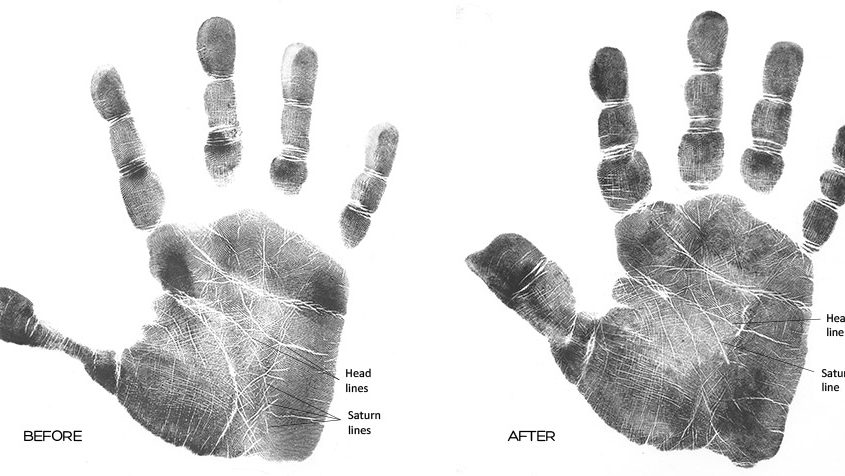 For information on our coaching program, call us at 866.428.3799 or click here to book an appointment. We are here to help.
https://birla.ca/wp-content/uploads/2016/08/defeating-duality-double-head-line-1.jpg
700
1200
Guylaine Vallée
http://birla.ca/wp-content/uploads/2017/11/logo-eng.png
Guylaine Vallée
2016-08-31 20:37:11
2016-08-31 21:05:25
Defeating the Duality of a Double Head Line