Finding the Magic, One Line at a Time
By Vedic Astro-Palmist Guylaine Vallée
Is your past limiting your future?
Are you trapped in repeated, destructive patterns of behavior?
Vedic Palmistry can set you free—check out Elizabeth's story.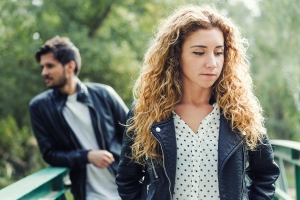 Ever since she was in high school, Elizabeth didn't feel good about herself unless she was in a romantic relationship. Raised in a stable, well-to-do family, she left home as a teenager to live with her boyfriend. The relationship was unhealthy and turbulent, but she stayed because she lacked confidence to live on her own.
After several years, she fled that relationship and jumped into marriage with a co-worker, hoping it would bring her the fulfillment she craved. But that relationship was also turbulent, and after the birth of her children, it soured as well. Her next relationship was a romance with another co-worker, but again . . . it ended painfully and abruptly.
Elizabeth was stuck in a destructive pattern she didn't know how to break. Despite the fact that she had raised four children by herself and, by that time, had started up and was running her own successful business, her self-esteem plummeted when she was without a man in her life. She had been brought up to believe that her purpose and identity hinged on the romantic relationship in her life, not on her own attributes or accomplishments.
Elizabeth tried to avoid her pain by throwing herself into her work and the demands of being a single mom, but she was haunted by unhappiness and the memories of her failed relationships.
When she came to see me, she was desperate for change, believing palmistry could magically predict that her life would be filled with love, happiness and personal fulfillment.
"Elizabeth, Vedic palmistry isn't magic—it's an ancient science that has been helping people learn about themselves and improve their lives for more than 5,000 years," I told her. "But, if you give it a little time, the results will feel like magic—your life will be transformed."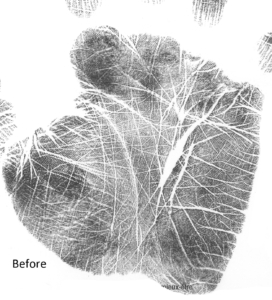 Her first set of handprints revealed a highly confusing pattern of crisscrossing lines traversing her entire palm, like wild weeds choking a garden. This told me she was mentally exhausted, worrying about the demands of daily living and her desire to find a partner. The over-abundance of lines reflected Elizabeth's chronically agitated state of mind.
I explained to her that the hectic network of lines was short-circuiting her ability to perceive herself and the world clearly. I told her that happiness in a relationship would continue to elude her until she regained her self-control and became centered within herself.
"You can't change the past," I continued, "but you can change your present and your future and attract positive people into your life by changing your expectations of relationships."
"But how do I do that?" she asked.
"By changing one line at a time," I said. "We need to clean up your hand and get rid of some of these excess lines. You need to balance the three major lines of heart, head and life with the minor lines of destiny, Sun and Mercury in order to establish a better equilibrium in your life."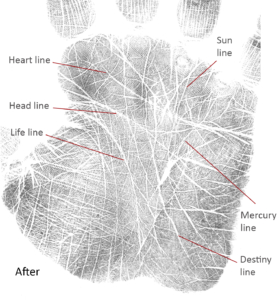 I explained that the lines of our hands change when we change our attitude and outlook on life, which is why palmistry is such an excellent tool for self-development. It allows us to focus on the areas of our life most in need of work, and as we strive to improve those aspects of our lives, it lets us monitor our progress by tracking the changing lines of our palm.
"It won't happen overnight," I told her. "Your habits, self-doubts and negative mindset have developed over many years, and it will take time to undo them. But as the great Himalayan yogi Lahiri Mahasaya said, `Banat, Banat, Ban Jai'—meaning doing, doing, one day done."
In Elizabeth's case, what she needed to "do" first was calm her mind and connect with her inner serenity. We began with a series of breathing exercises and a daily meditation routine.
We met once a month to discuss the positive changes in her life and take fresh handprints to check the changes in her lines. She was encouraged when she saw her major lines become more apparent.
As she felt better about herself, she was no longer driven by the need to jump from one relationship to another, looking for love. She felt a great release from the past patterns of behaviour that had held her captive for so long.
In her "after" handprints, we can see the busy network of interference lines subsiding, reflecting her more peaceful, confident, and focused approach to life.
Elizabeth experienced a major life transformation with the help of Vedic palmistry, and she did it by changing one line at a time.
http://birla.ca/wp-content/uploads/2017/11/logo-eng.png
0
0
Guylaine Vallée
http://birla.ca/wp-content/uploads/2017/11/logo-eng.png
Guylaine Vallée
2022-04-08 09:48:42
2022-04-10 10:23:52
Finding the Magic, One Line at a Time