Discovering Your True Potential

Are you failing to reach your full potential? Feel that you are not advancing in your life or your career? Are you trapped in a go-nowhere job? We can help you identify and develop your hidden talents and get you back on track! Check out Phillip's story:
In the Vedas, palmistry and astrology are twin sciences, intimately entwined and referred to together as Hast Jyotish—Hast meaning hand and Jyotish meaning astrology. In Hast Jyotish (Vedic Palmistry) we use both the palm and the astrological birth chart to understand what is going on in a person's life. The astrological birth (or natal) chart reveals our strengths, weaknesses and potential; the handprints let us know if we are living up to that potential. If a person is having difficulty in any area of life, we suggest a course of action to align them with their planetary potential, and then monitor their progress by taking handprints at regular intervals. The lines of our hands change as our actions and attitudes change. It is an incredibly effective way of making the most of our natural-both gifts and talents.
Phillip, a long-time client, is an excellent example of how the natal chart-handprint combination can be used to discover our true calling and help us find success and happiness.

Phillip's astrological chart revealed tremendous potential, but that potential wasn't reflected in his initial handprint. In his chart, Saturn is exalted in the sign of Libra in the 8th house, suggesting he possessed the innate desire, mental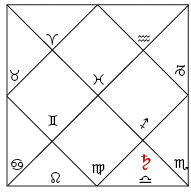 discipline and discernment to rigorously seek the truth. With this auspicious planetary configuration, Phillip could excel in any career calling for analytic investigation, such as a theoretical scientist, investigative journalist, psychologist, palmist or astrologer.
But Phillip's initial handprint showed that he wasn't utilizing his natural gifts or living up to his full potential; there was a complete lack of activity on his mount of Saturn and no hint of a "love of truth" line. And his weak destiny line—also known as the Saturn or Karma line—didn't reach his heart line, indicating a lack of commitment to a vocation or cause. His natural abilities were lying dormant and unused in his subconscious.
This lack of destiny fulfillment was the reason Phillip came to see me. He'd been stuck in a series of unrewarding, go-nowhere jobs; he was bored, miserable and depressed. I encouraged him to "seek the truth"—to tap into his unconscious potential by looking within himself.
Phillip committed to this wholeheartedly. He began a daily meditation routine, started practicing yoga, and threw himself into the study of palmistry and astrology. In his second set of handprints taken a year later, we can see that Phillip had developed a strong "love of truth" line, and his destiny line had extended well beyond his heart line. He had changed his destiny—and the lines of his hands—by changing his thought patterns and behavior. Today he is a successful teacher and one of the most sought after Vedic consultants in the country . . . and he is a very happy man.
Vedic palmistry is a quick, effective tool anyone can use to tap into their subconscious potential and manifest it in their lives.
If you need help realizing your full potential, give me a call at 866-428-3799 or click here to book a consultation. We are here to help.
https://birla.ca/wp-content/uploads/2016/10/decouvrir-votre-veritable-potentiel-2-1.jpg
500
1000
Guylaine Vallée
http://birla.ca/wp-content/uploads/2017/11/logo-eng.png
Guylaine Vallée
2016-10-19 23:41:37
2016-10-20 00:06:41
Discovering Your True Potential