Benjamin's Story: From Heartbreak to Happiness

Christina was at her wits end when she called me.
Her husband suffered a fatal heart attack several months earlier and she'd moved from Chicago to Montreal to be with family. But her 13-year-old son Benjamin was not adjusting well to the sudden changes. Devastated by his father's death and traumatized by the move, he was experiencing panic attacks, had no friends or interests, and was doing very poorly at school, where his bad behaviour landed him in detention every afternoon. While on the phone with Christina, I could hear Benjamin slamming doors and shouting: "I hate my school, I hate my teachers, I hate French . . . and I hate you for making me come here!"
"I'm worried sick about Benji," Christina said. "We've been in family therapy for months, we've visited three child psychologists and consulted a psychiatrist—nothing has helped. My sister recommended you; I don't really believe in palmistry, but you're my last hope."
Benjamin was sullen and despondent when he arrived at my office. He slumped into his chair, balled his hands into fists and stared at the floor. His despair was heartbreakingly obvious. His handprints revealed that his pain and anger were blocking him from progressing in life—he was trapped in his grief. He had prominent islands of interference on the life line of his left hand, reflecting his growing isolation, loneliness and despair. I decided to reach out to him through astrology.
"Look at these, Benjamin, they're the astrological birth charts for you and your father," I said. His eyes widened as I pointed to the similarities in the charts. "You have the same Virgo ascendant and very similar planetary placements, which makes you and your dad quite a bit alike."
"Really?" he asked, showing interest.
"Really! And you both have Major Rahu periods beginning at age 13." I explained that, in simple terms, a Major Rahu is an 18-year period that can bring a lot of change and present us with tough challenges to overcome and hard lessons to learn . . . and sometimes force us to travel to different countries and learn foreign languages. I told him that the way we respond to these challenges can shape our future and determine what kind of person we become. "
"That's exactly what happened to my father, Benjamin said. He had to move from Italy to America when he was 13, leave all his friends behind, start over at a new school and learn another language."
"Kind of like you're doing, isn't it? I asked. Tell me Benjamin, how did your Dad handle those big changes?"
"Grandma told me it was tough for Dad at first, but he learned English and studied so hard he got a scholarship. Then he started his own company and hired 200 people—and had tons of friends! Everybody loved my Dad. I guess that's what I've got to do, too, isn't it?"
"It sounds like a very good idea," I said, giving him a small astrology book and the two birth charts to take home.
I saw Benjamin regularly over the next several months and he was always eager to see how the lines in his hands were changing and learn about the planets. When he showed up with his mom a year later to take his "After Handprints", his entire demeanor had changed. He was walking tall, his eyes were bright, his hands were relaxed and he was smiling. His After handprints reflected his dramatic transformation—the islands of interference had completely disappeared from his life line.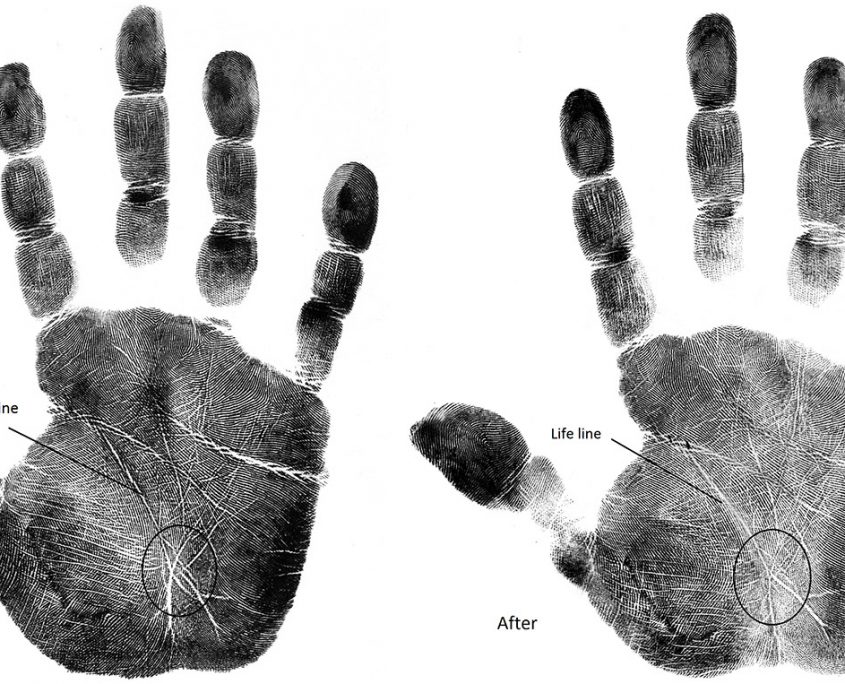 "I don't know what you said to him, Guylaine—but you inspired him—you opened his heart. His grades are terrific, he's almost fluent in French, he's joined the school hockey team and astronomy club—and he's popular! His new friends are constantly hanging out at our house. I don't have to worry about him anymore, he's happy."
If you or someone you love is going through a difficult time, I am here to help. Give me a call at at 866-428-3799 or click here to book a consultation.
https://birla.ca/wp-content/uploads/2016/08/benjamin-story-heartbreak-to-happiness.jpg
700
1200
Guylaine Vallée
http://birla.ca/wp-content/uploads/2017/11/logo-eng.png
Guylaine Vallée
2016-08-25 07:08:04
2016-08-25 07:28:59
Benjamin's Story: From Heartbreak to Happiness