The Union Line: Making Beautiful Music Together

Gerald was a concert pianist; Marge didn't play an instrument but was a huge fan of classical piano music. One evening, Marge attended a concert in which Gerald played a solo piece; she was so moved by his music that she was determined to meet him. When they were introduced backstage they felt as if they had known each other all their lives—the chemistry was instantaneous, undeniable and profound. It was love at first sight.
They began a passionate romance and became inseparable companions. And although their ardor never cooled, after several months of dating there was definitely trouble in paradise. Gerald felt smothered by Marge's possessiveness, sudden outbursts of anger, and forceful, demanding nature. That's when they came to see me for couples' counselling.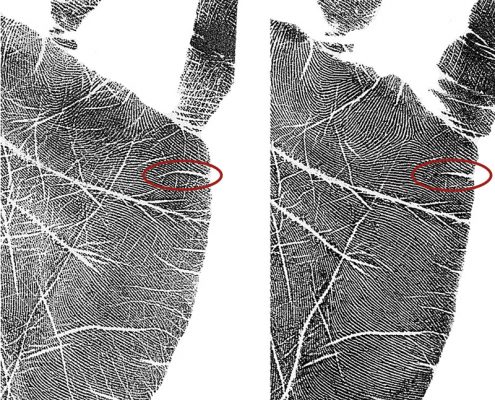 The first thing I did was check their union lines (sometimes referred to as the marriage line) and noted that they both had just one, indicating they were seeking one true and lasting love-match. Their partnership was supported by the age-placement of their lines—Marge was 32 and Gerald was 38 when they met and their union lines perfectly corresponded with that time frame. And the fact that both of their union lines extended to the back of their hands suggested they may have known each other in a previous life and had a karmic relationship, accounting for their sudden, mutual attraction and instant sense recognition and familiarity. All this pointed toward a very good match.
The trouble was with Marge's downward-turning union line, referred to as mangli, which told me the effects of traumatic events or turbulent life changes were spilling into her current relationship. As it turned out, she was dealing with the recent death of her mother, the breakup of her previous long-term romantic relationship and a work-transfer to a new city—the combination of which had made her angry, anxious, insecure and resistant to change. Unfortunately, Gerald was often the focus of these negative emotions.
I explained to Marge that she needed to let go of her anger and channel her intense emotions into physical exercise as well intellectual and spiritual pursuits, otherwise she would poison her relationship and make herself sick.
Marge took my advice. We scheduled regular appointments to get to the root of her anger and she had frequent ayurvedic massages to release her tension and faithfully practiced yoga and meditation. And she began studying piano under Gerald's tutelage.
Over the course of two years Marge completely changed her outlook on life. She became more accepting and open to change and developed an easygoing, sunny disposition. Her union line gradually straightened out, reflecting these internal changes. Her relationship with Gerald improved immensely—they married a year later and have been making beautiful music together now for two decades.
If you would like help with your relationship or understanding your union line, give me a call at 866-428-3799, or click here to book a consultation. We're here to help.
https://birla.ca/wp-content/uploads/2016/09/union-line-making-beautiful-music-together.jpg
600
1200
Guylaine Vallée
http://birla.ca/wp-content/uploads/2017/11/logo-eng.png
Guylaine Vallée
2016-09-08 07:47:11
2016-09-08 08:04:43
The Union Line: Making Beautiful Music Together