Sun in Capricorn: Getting What you Want In Life and Love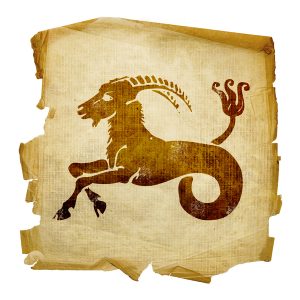 The Sun moved into the sign Capricorn on January 13th and will stay until February 11th. (Check our conversion chart below.)
Capricorn is the tenth sign of the zodiac relating to karma (destiny); it pertains to the heights of personal achievement and reaching the zenith of our career. Capricorn reflects a far-reaching vision that impels us to embark upon new undertakings; it reflects a tenacious nature that implies, no matter how long it may take us, we will find a way to resolve situations and overcome obstacles in order to get where we want to go and obtain the goals we have set for ourselves.
In the West, Capricorn is symbolized by the sure-footed mountain goat, that most determined of creatures who persistently and steadily navigates perilous terrain until it reaches the mountaintop. The ability to get what we want this month (in life and in love) is bolstered by the fact that the sign of Capricorn is ruled by Saturn, the planet of discipline, responsibility, wisdom and transformation. Saturn's role is to build and stabilize foundations. So, this month, especially as we set out to fulfill our New Year's resolutions, we can do ourselves a great favour by putting Capricorn's steely determination to good use designing practical, realistic plans and strategies that will allow us to attain our objectives in our work, life and relationships.
Take some time to seriously contemplate what it will take for you to make the changes you need to make in order to fulfill the dreams and hopes you want to realize. Buy yourself a calendar and write down a step-by-step plan that will enable you to reach you goals—stick to the plan until you are standing on top of the mountain with a big smile on your face!
Discover how Sun in Capricorn is influencing (or can influence) your life and relationships. Book a consultation with us, either in person, by phone or via Zoom. We'll discuss how to make the most of this planetary transit!
Call us at 866-428-3799 from Canada or the U.S.
You can reach us from anywhere in the world by calling: 819-428-4298 or click here.
We are here to help!
Remember, we practice Vedic astrology.
That means your Sun sign may be different from what you've always thought it was, and that could change your entire outlook on life!
Click on our Conversion Chart to determine your Vedic sign.
http://birla.ca/wp-content/uploads/2017/11/logo-eng.png
0
0
Guylaine Vallée
http://birla.ca/wp-content/uploads/2017/11/logo-eng.png
Guylaine Vallée
2019-01-13 08:56:40
2019-02-08 09:06:54
Sun in Capricorn: Getting What you Want In Life and Love