Lyn and Roy: The Dark Heart

Excerpt from The 90-Day Heart Line Challenge: Open Your Heart to Love, Joy and Happiness
By Vedic Palmist-Astrologer Guylaine Vallée
The Five States of the Heart
In his masterpiece, The Holy Science, Sri Yukteswar tells us that, as we evolve toward the expression of perfect love, we must progress through "Five States of the Heart." Successfully passing through each state brings us a step closer to our goal of perfect love, a step closer to clearing the clouds from our heart, and a step closer to the power of the Infinite within us. Sri Yukteswar writes: 'If we are able to cultivate this powerful ruling force of love implanted in our heart, we will be free of the unhappiness from the pain and pleasure cycles that are a part of life.'
Understanding the steps described by Sri Yukteswar, these five states of the heart, has helped so many of my clients find love, and has helped me so greatly in my own life, that I'm dedicating this week's Challenge to exploring them. I really believe this will give you a deeper insight into the evolution of the heart, will inspire you as much as it has inspired me, and will help us immeasurably in our quest to expand our heart and create a love-filled life!
The first state of the heart Sri Yukteswar tells us about is the Dark State:
The Dark State of the Heart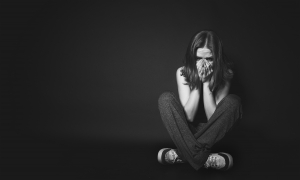 When we are in the Dark State of the Heart, we are oblivious to our soul's intuitive instinct to embrace and express love. We identify with, and become overwhelmed by, the external events that surround us. There are many traps through which the Dark State of the Heart can ensnare our consciousness: Ignorance, heartache, negative attitudes and emotions, bad habits, substance abuse or psychological and emotional trauma, to name a few. Birla clients Lyn and Roy were both plunged into this darkness through the pain of a shared personal tragedy.
Lyn And Roy: The Dark Heart
Lyn and Roy were a married couple who took a road trip with their young son. At one point, Roy became drowsy and asked Lyn, a less experienced driver, to take over behind the wheel. Not long afterwards they had a head-on collision in which their son was killed.
Neither Roy nor Lyn could forgive themselves for their boy's death. Guilt pulled them both into a downward spiral of depression and emotional isolation. Despite having two other children, they could not open their hearts to express love. Years passed but their hearts did not heal; their love was consumed by guilt, anger and grief. Roy eventually retreated entirely into himself, quit his job and passed his days numbed by sedatives and antidepressants. Lyn continued to function, but her heart remained a stranger to herself and those around her.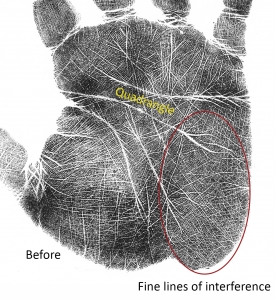 Eventually a family friend convinced Lyn to have a consultation with Ghanshyam. Her "before" handprints reflect her persistent sadness, stress and anxiety, which can be seen in the network of fine interference lines streaking the middle and bottom areas of her palm. But fortunately, in her after prints, Lyn developed a star on her Mount of Jupiter, which is a sign of strong, intuitive soul wisdom. After several consultations, Lyn realized (and came to accept) that she could no longer let personal tragedy cloud her heart and, for the sake of her husband and surviving children if not for herself, she must stop allowing guilt and suffering to dominate her life.
This spiritual insight allowed Lyn to break free of the Dark State of the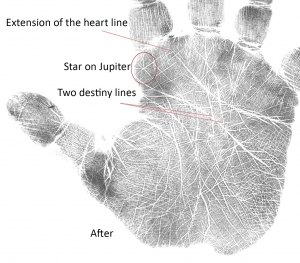 Heart and seek therapy to confront her grief. Her understanding of the need to move forward in love is reflected in the balance between her heart and head lines forming a healthy quadrangle which, as we've learned, is "The Landing Strip of The Angels". Her healthy quadrangle gave Lyn the openness to accept and receive help from others. Her valiant spirit, which refused to let her quit on life or love, is illustrated in her "after" handprints through the extension of her heart line and her two vertical destiny lines, reflecting her determination to transcend even the most difficult obstacles and struggles.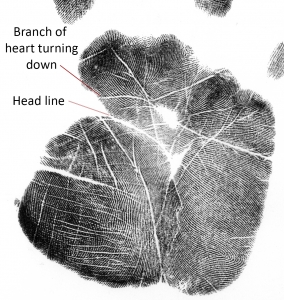 Roy was less receptive to helpful counsel. His inability to support his family, either emotionally or materially, is confirmed by the imbalance between his short head line and long heart line. He lacks a healthy quadrangle; his "Landing Strip of the Angels" is further blocked by a branch of the heart line, which is being dragged down toward the head line and clouding his love with negative thoughts. He continued to allow his own guilt, and his anger at Lyn—whom he blamed for the accident—to close off his heart and keep it in the dark state. However, we remain hopeful he would eventually come around and, by opening his heart through forgiveness, would heal and be free to love.
The energy of our thoughts, feelings and actions directly impacts the lines in our hand. The way we direct that energy determines the direction our lines take—and the heart line is no exception. If we focus on positive emotions like love, acceptance and forgiveness, our heart line will extend to our Jupiter mount in a positive upward curve, which opens our quadrangle and invites angels and blessings into our life. If we are obsessed over negative thoughts and project negative emotions, our heart line can be pulled downward toward the head line, closing off our quadrangle and denying us the benefits of those wonderful quadrangle blessings.
A great deal of this, of course, depends on how we respond to the events in our life. If we allow negative situations to defeat our spirits, our heart line will evolve in a negative, downward direction; if we remain steadfast in our expression of love in the face of adversity, our heart will evolve in a positive, upward direction.
Click here to find out more about The Self-Paced 90-Day Heart Line Challenge
https://birla.ca/wp-content/uploads/2020/10/Husband-mad-at-wife-small-AS.jpg
1200
1800
Guylaine Vallée
http://birla.ca/wp-content/uploads/2017/11/logo-eng.png
Guylaine Vallée
2020-10-11 16:54:29
2021-05-26 16:24:54
Lyn and Roy: The Dark Heart