Appreciating Life's True Treasures: Learning to Love

Is poor communication pushing you to the brink of divorce? Is fear of the future or worries about financial security inhibiting your ability to love? Having trouble remembering what attracted you to your spouse in the first place? We can help you. Check out Aidan's story:
"That's it! I'm done with her, I want a divorce," Aidan declared the moment he stepped into my office.
Aidan had been coming to see me for two years, seeking help to overcome his obsession about financial security and fears of poverty.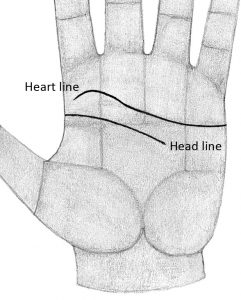 His anxiety was reflected in his short headline, which told me he was preoccupied with daily living and maintaining a hefty bank balance, but failing to appreciate the many treasures he already possessed—like the love and support of Trish, his wife of nearly 20 years. Aidan's short sightedness was dragging his heartline toward his headline—a downward curve that resulted in serious trust issues and curtailed his capacity to fully and freely and express and receive love.
Still, I was surprised by Aidan's abrupt statement about divorce, not only because he had been making good progress during our coaching sessions, but also because I knew Trish; she was one of the kindest, most open-hearted and loving people I'd ever met.
I checked Aidan's fresh set of handprints and saw that his headline had shortened even further. Despite a relatively long heart line that provided him the capacity to love deeply—his weakened headline could not support the needed devotion or level of trust to do so.
"What is this all about, Aidan?" I asked. "You've told me many times that Trish is your soul mate and best friend, the only person you could count on and trust."
"That's true," he said. "But the college cut back her teaching hours and she's not earning as much money as before. I'm awake nights worrying if we'll be able to pay the bills. I'm sick of watching every dollar—this is not the life I want. I want a divorce. I want to find someone with more money."
"But Aidan, your wife is a gem. She supported you financially for years after you hurt your back and couldn't work, and she nursed you back to health. She's working as hard as she can and she's still earning good money."
"Well, she's not earning enough. Besides, she's slowing down and forgetting things. She expects me to help her around the house—picking up groceries, cleaning, cooking. And . . . she's getting older; I'm not attracted to her anymore."
"Aidan, if Trish is having a challenging time, she needs your support. Would you throw away a loving relationship just because she's getting older? None of us are getting younger, including you. Besides, didn't you receive a huge inheritance when your mother passed away last year? So you don't really have money problems, do you?"
"Now wait a minute, Guylaine!" Aidan said. "That inheritance money is mine, I need it for my future. Secondly, Trish is ten years older than me. Am I supposed to stick around and take care of her forever and be a nursemaid just because she took care of me? No way—I want out."
"That's your short headline talking, Aidan—not your heart. Your mind is distorting your true feelings. You need to extend your headline and create a balance in your hand, then you will see reality more clearly and appreciate what you have in Trish. Otherwise, fear and anxiety will blind you to what you have. Unless you develop a healthy balance between your heart and head, you will never find happiness. If you leave your wife now, you will regret it, and if you do meet someone new, she might be drawn to you for your money."
I encouraged Aidan to practice more gratitude to help restore balance to his hand and bridge the gap between his head and heart lines. Unfortunately, he wasn't interested. He had his inheritance and was being drawn away from true love by his misguided perceptions and false beliefs.
His long heart line instilled in him an idealized vision of the perfect person to be with, but because that line turned downward, it was hard for him to ever trust or be honestly intimate with someone. This made it very easy for him to let go of a beautiful person who had loved him truly, deeply and faithfully.
I regret that I couldn't help Aidan; palmistry can only help us when we are willing to help ourselves.
In my personal coaching sessions, I help clients to improve any aspect of their personal or professional life that is causing them difficulty—from building self-confidence, to developing charisma, to finding love. Give me a call at 866-428-3799, or book a consultation by clicking here. I'm here to help.
https://birla.ca/wp-content/uploads/2016/10/apprecier-les-veritables-tresors-de-la-vie-apprendre-aimer-image.jpg
562
1000
Guylaine Vallée
http://birla.ca/wp-content/uploads/2017/11/logo-eng.png
Guylaine Vallée
2016-10-13 06:47:36
2017-01-09 16:36:20
Appreciating Life's True Treasures: Learning to Love