Discovering the Mounts—The Power of the Planets in the Palm of Your Hand
Online course (P-102) with Ghanshyam Singh Birla in English and Guylaine Vallée in French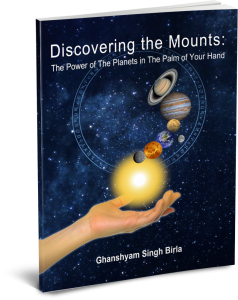 Harness the power of the planets and unleash your full potential by learning the secrets of Vedic palmistry's most mystical component—the mounts!
Discovering the Mounts unites the worlds of Vedic palmistry and Vedic astrology by analyzing the interplay of planetary forces at work in the hand's ten astrological energy zones, which the ancients referred to as the mounts. Understanding how the mounts function allows us to increase the positive influences of the planets.
In this course, we will explore the powerful connection that exists between each individual mount and their corresponding planet, discovering how we use that connection to harmonize our energies, strengthen our relationships, overcome obstacles, reduce stress and frustration, and allow our natural talents and skills to flourish.
Discovering the Mounts is one of our signature courses, offering a perfect blend of Vedic philosophy, wisdom and in-depth practical know-how that provides all the information you need to successfully apply astro-palmistry in your personal life and profession.
You will learn how to identify and analyze the physical aspects of the mounts to determine their state of health and balance, including what a mount's shape and size tell us about our attitude and outlook, and even how the color, texture and skin consistency of a mount impacts our health, happiness and state of mind.
Discovering the Mounts is a fun, fascinating and truly comprehensive exploration of the mounts. It will heighten your understanding of how the planets are impacting you in every aspect of your life. It will teach you how to better channel the power of the cosmos to create greater success, peace and joy in your daily life.
Let the wisdom of the mounts brighten the long, dark winter months. Don't delay, our Winter Semester Special won't last long, so sign up today—you won't regret it!
The online Discovering the Mounts course includes:
16 classes and a textbook in PDF format (300+ pages)
Class videos with Ghanshyam to educate and inspire your transformational journey.
Assignments (optional)
Two sets of inked acetates to take your own 'before and after' handprints to see the change in your handprints (shipping not included).
Complementary tutoring
A 20% discount on consultation/coaching sessions for those looking for additional support throughout the course - in person or by videoconferencing (Zoom)
Register to Discovering the Mounts and pay only $169 (Reg. $249).
Our Winter Semester special ends February 9th, 2019. Click here to register.