---
Finding Joy in 2021: A Life-Changing New Year's Gift from Us to You
The events of 2020 have left us all feeling a little battered and discouraged, which is why the Birla Center is delighted to invite you to be our guest at the first ZOOM session of Finding Your Joy, our upcoming 12-week webinar series exploring the transformative power of the life line.
Finding Your Joy is hosted by astro-palmist extraordinaire, Guylaine Vallée, who will provide you with the tools and knowledge to create a healthier, happier and more joyous life in 2021 and beyond.
There is NO CHARGE for attending the first Finding Your Joy webinar. However, we are certain you will have so much fun with Guylaine and be so impressed with what you learn that you will want to sign up for the rest of this life-changing program. But you should not wait to register, this is shaping up to be one of our most popular webinars and space is limited.
To ensure you have a seat, click here to reserve and tell us you want to attend the first webinar for free. Denise will contact you in the coming week. You can also call us at 866-428-3799 or at 819-428-4298.
So please, clear your schedule and join us via ZOOM at 1:30 p.m. on January 27th. We will work together to ensure 2021 becomes a year of hope, happiness, good health and joy!
Life Line Webinar Course: Finding Your Joy
Finding Your Joy is an hour-long ZOOM webinar hosted by Guylaine Vallée that will air every Wednesday at 1:30pm from January 27th to April 14th, 2021. This special webinar will draw upon the weekly PDF lessons from our Life Line Challenge.
Each episode is divided into three segments to provide you with all the information and inspiration you need to navigate these unique and challenging times while creating a healthier, happier and more joyous future.
---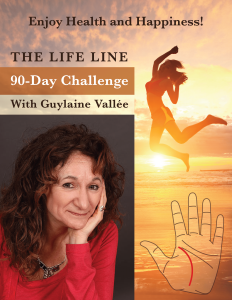 SEGMENT ONE: Horoscope of the Week. This segment is devoted to analyzing the week's planetary positions and how we can make that planetary energy work for us in our daily lives.
SEGMENT TWO: Theme of the Week. This segment is based on a weekly lesson taken from the Life Line Challenge. During this segment, we will explore real-life cases illustrating the awesome power of the life line and discover how we can transform our lives for the better by properly channeling our prana—our life force energy.
SEGMENT THREE: Tips for Better Living. This segment explores practical yogic exercises, breathing techniques, affirmations, mantras and meditation that will center your energies, release your stress and help you to tap into your inner joy.
---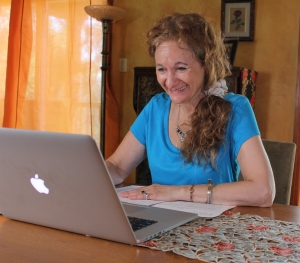 During the webinar, you will be introduced to self-transformation techniques that have been helping people live happier, healthier and more joyful lives for centuries—techniques developed by the sages of India over 5,000 years ago.
You will revitalize every aspect of your being by learning to tap into and channel your prana—the energy that carries within it the original spark of life itself. Mastering your prana will transform your life forever!
Regardless of your physical age, you will discover how to feel good in your body, vibrate with robust health and be able to pursue your dreams and goals with purpose and passion. In other words, you can embrace the joy of being alive!
Two Options for Finding Joy
You have two options when enrolling in our Finding Your Joy webinar. You can either take it on its own, or in conjunction with the Life Line Challenge. The Challenge offers a fuller experience by including many hours of engaging and informative videos hosted by astro-palmist Guylaine Vallée, a Do-It-Yourself Handprint Kit and a beautifully illustrated 275-page PDF filled with lessons on harnessing the awesome power of the life line in order to experience joy and enjoy life to the fullest.
OPTION 1: Finding Your Joy Webinar Course: $269 (Reg. $299)
OPTION 2: Finding Your Joy Webinar Course +

The Life Line Challenge

: $399 (Reg. $548)
For details or to register to the Webinar,
call us toll-free at 866-428-3799, 819-428-4298 or click here to send us a message.