Our Triple Challenge Bundle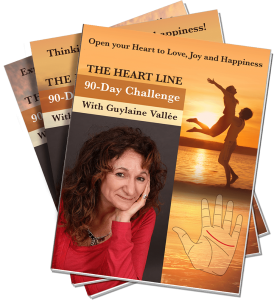 Don't miss out on a special opportunity to triple your chances of love, peace of mind and a long, healthy, joy-filled life! Take advantage of our three most popular Self-Paced Online Programs: The 90-Day Heart Line, Head Line and Life Line Challenges  guaranteed to lift your spirits, open your heart, revitalize your relationships, and bring a smile to your face. Transform your life or the life of someone you love by ordering The Triple Challenge Bundle today!
The Birla Center's Palmistry in Action Series
Decades of experience have taught us it takes a minimum of 90 days to develop new lines in our hand and make permanent, positive changes in our thought patterns. This is why we designed the Palmistry in Action series as 90-day programs. We guarantee that following each program for 90 days will forever change your life by strengthening and improving the three major lines in your palm—the heart line, head line and life line.
During the program, participants are eligible for a special discount on personal coaching sessions, in person or by videoconferencing (Zoom), with a member of The Challenge Team.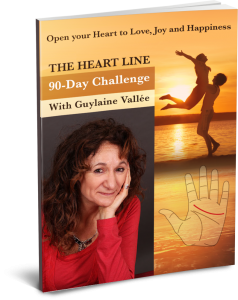 The 90-Day Heart Line Challenge
It all begins with the The 90-Day Heart Line Challenge, which, since we introduced it in May 2017, has garnered scores of rave reviews. Discover the secrets of giving and receiving unconditional love in just 90 days! By improving your heart line you will improve every relationship in your life. The Heart Line Challenge is a guide for opening your heart and learning to fully love and accept yourself, build stronger and more loving bonds with your family and friends and reigniting the passion and romance in your love life! Our heart line is the doorway to love in all its wonderful manifestations—don't hesitate, open the door of your heart today by taking The Heart Line Challenge.
To know more about all that this challenge includes, click here.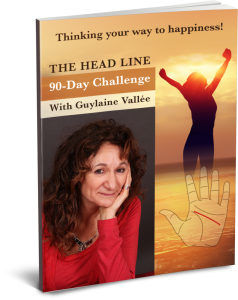 The 90-Day Head Line Challenge
Reinforce the gains you make in The Heart Line Challenge with the second part of the Palmistry in Action series, The 90-Day Head Line Challenge. We launched this program in October 2017 and it was filled to capacity the day it went online! Why? Because everyone wants to learn how to think more clearly and focus their mental energy on what matters most in life. Our thoughts determine how we live, how we feel and how we love. Don't let negative thinking prevent you from finding your purpose, fulfilling your dreams or living life to the fullest. Master your thoughts and shape your destiny with The 90-Day Head Line Challenge. Happiness, success and peace of mind are just 90 days away!
To know more about all that this challenge includes, click here.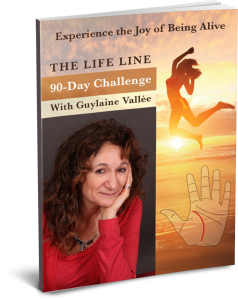 The 90-day Life Line Challenge
The 90-day Life Line Challenge completes the trilogy of our Palmistry in Action series and allows you to strike the perfect, healthy balance of heart, mind and body. Our body is the vehicle through which we experience what the ancient yogis of India referred to as Ananda, a Sanskrit world that translates as pure happiness or bliss. The yogis also told us that this sensation of physical joy is our natural birthright. In The 90-day Life Line Challenge, you will learn how to claim your birthright. You will discover the joy of absolute love and how to live in a constant state of Ananda no matter what hardships or heartaches life throws your way. Developing the life line through The Life Line Challenge teaches you how to physically express the purest desires of the heart and mind and, in the process, fulfill your karma and manifest your dreams.
To know more about all that this challenge includes, click here.
This is a great opportunity to give yourself and the people you care about a gift that will bring a lifetime of happiness!