Transform Your World through the Power of the Head Line!
Free your mind and embrace a happier, healthier, more loving and successful life in just 90 days!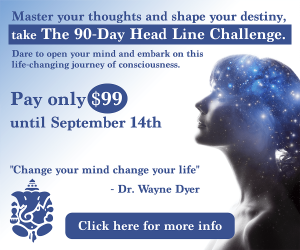 Our years of experience have taught us that it takes 90 days to make positive changes in the lines of our hand, changes that will vastly improve the way we think, love and live. This is the reason we have developed our Palmistry in Action series, three separate 90-day programs designed to create rapid, positive growth in each of our three major lines—the heart, head and life line.
Our first program, The 90-Day Heart Line Challenge, was such an overwhelming success that we are delighted to announce pre-registration for the second part of the series, The 90-Day Head Line Challenge.
Are the self-defeating voices in your mind preventing you from getting the most out of life? Has self-doubt, fear of failure and a negative self-image stopped you from fully succeeding in your career and relationships? Have you ever been frustrated by confusing thoughts, conflicting emotions or a sense of sadness that never completely goes away? Well then, The Head Line Challenge is for you! Our thoughts determine how we live, how we feel and how we love, which means our mind can be a prison or a palace.
Don't be a prisoner of your thoughts . . . free your mind and connect your thoughts to the joy that's in your heart! In just 90 days we will help you improve your head line and silence the negative voices that have kept you from the success, love and happiness you deserve!
Take The 90-Day Head Line Challenge and think your way to happiness in just 90 days with our beloved astro-palmist Guylaine Vallée serving as your guide and coach.
Click here to find out what you get when you sign up for The 90-Day Head Line Challenge:
An extensive PDF Head Line Guidebook packed with practical how-to information on developing a powerful head line and directing your thoughts to create the life you want.
A dozen inspiring instructive videos by your coach, astro-palmist Guylaine Vallée, who will be with you every step of the way during the entire 12 weeks of The 90-Day Head Line Challenge.
Insightful lessons from Vedic philosophy on how to quiet your mind, look inward to discover your true self and tap into the limitless spiritual energy at the center of your being.
An examination of the latest developments in neuroscience, the interplay between modern brain research and the ancient wisdom of Vedic palmistry and methods of combining the two systems to strengthen the head line.
Weekly exercises designed to still the mind, develop emotional intuitiveness (the third eye) and rid yourself of negative thoughts and self-doubt.
Yogic techniques to heighten self-awareness and boost personal magnetism by developing the ability to perceive more objectively, choose more wisely and behave more thoughtfully.
Pages of helpful illustrations and dozens of inspiring real-life stories from people who have discovered happiness and peace of mind by developing their head line.
Dozens of "before and after" handprints from actual Birla Center clients who've transformed their head lines (and their lives!) through Vedic palmistry.
A dozen Thoughts of The Week and weekly affirmations to keep you motivated.
A weekly interactive journal through which you will gain insight into the inner workings of your own mind, embrace your true "soul nature" and access the power of your subconscious to develop your full potential.
Two sets of inked acetates to take your own "before and after" handprints and witness the amazing improvement in your head line yourself!
Free access to our private Facebook forum where you can share your personal success stories and enjoy the encouragement and support of other participants in The 90-Day Head Line Challenge!
For participants looking for additional support throughout The Challenge, personal coaching sessions are available via telephone or video-conference (Zoom) at very affordable rates: $49 / 30 minute session – $99 / 60 minute session
Before the Challenge starts, you will receive an email explaining how the challenge works and a code to access the private Challenge! page on our website.
Only $99 plus

shipping

fees (Reg.: $147). This special introductory offer ends September 14th, 2019