Don't Let Your Chance for Lasting Love & Happiness Slip Away!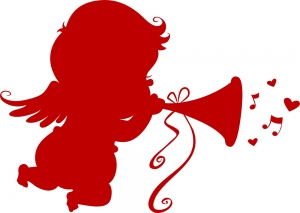 For Valentine's Day this year, we are offering a super-special discount on our Self-paced 90-Day Heart Line Challenge. This life-changing online program is designed to open your heart and let love flood into your life. Utilizing all the wisdom and philosophy of the 5,000-year-old science of Vedic palmistry, this three-month Challenge is guaranteed to transform your life. It will introduce you to dozens of time-tested, practical and easy-to-use tools that will allow you to tap into the Power of Universal Love and put that awesome power to work in your daily life. In just 90 days, you will not only learn to love yourself for who you are, but also energize your heart, boosting your personal magnetism and drawing caring friends and loving relationships directly to you. Make your dreams come true by learning to develop your heart line and unleashing your unlimited power to love and be loved!
So, this Valentine's Day, give yourself (or a loved one) the gift of lasting love and happiness by signing up for the Self-paced 90-Day Heart Line Challenge!  Our special offer ends at the stroke of midnight on February 14th… don't let your chance for true and lasting love slip away!
What the Heart Line Challenge includes
A weekly PDF of our Heart Line guidebook;
A dozen inspiring 10-minute-long weekly videos by your coach Guylaine Vallée, supporting and inspiring your every step throughout the 12-week Heart Line Challenge;
A journal section at the end of each weekly lesson to help you gain insight into the workings of your heart and draw more love into your life;
Weekly exercises to open your heart chakra and increase your personal magnetism;
Your personal Handprint Kit with inked acetates to take your own 'before and after' handprints and witness the amazing change in your heart line for yourself;
Participants receive a 20% discount on all consultations taken during the program in person or by videoconferencing (Zoom);
and much more...
What exactly will you learn by taking The Self-paced Heart Line Challenge?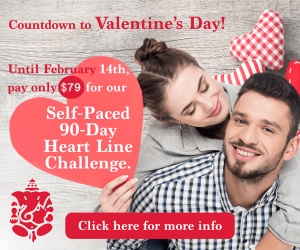 Well, for starters, you will discover how to deepen and strengthen your heart line, which is the key to living a happy and love-filled life. Whether your life is lonely and unfulfilling, or your love life is in a rut, or even if you are in a happy and rewarding relationship—The Heart Line Challenge will teach you how to explore the depths of your heart and discover how to bring more love, authenticity and passion to every area of your existence.
Bring a permanent smile to your face and to your heart with The Self-paced 90-Day Heart Line Challenge. And because you will certainly begin feeling surrounded by love during this incredible 90-day program, it's even better if you take the Challenge with a spouse, partner or a friend! Share the love—it's contagious!
Here are just a few recent testimonials from Challenge participants whose lives have been transformed through The 90-Day Heart Line Challenge.
---
Testimonials
"I am watching the videos of Guylaine's Heart Line Challenge and reading the lessons. The material is great, interesting and informative. Excellent job! Thanks and blessings to Ghanshyam, Guylaine and the whole team."
- Dr. S., psychiatrist, John Hopkins Hospital, Baltimore
"I love the Heart Line Challenge! It has made me feel better about myself, I feel more confident. I am no longer so affected by what people think about me, and overall, my relationships are much better."
- Fabienne P., hotel owner, Bretagne, France
"I'd like to take a couple of minutes to let you know how thrilled we are by the Heart Line Challenge, especially the concept in Week 4 that nothing is a coincidence. It's amazing!"
- Lyne J., business woman, Montreal, Canada
"I feel very fortunate to be in the Heart Line Challenge where each week I have the chance to reflect and learn a lot about me and my relationships.!"
- Caroline L., business woman, Ontario, Canada
"Taking the Self-Paced Heart Line, I have come to the realization that no one is without challenges. So, I see things from a different perspective. I am moved by your videos where your genuine authenticity allows me to see the bigger picture, which is an enormous gift."
- Stéphane P., computer specialist, Québec, Canada
---
Sign up now for only $79 (Reg. $147) and don't miss out on everything this program has to offer.
Our very special offer ends February 14th, 2020.
To register,

click here

,
or call us at 819.428.2498 or toll free at 1-866-428-3799.