Ever since childhood Brian had fantasized about being a writer. He had a brilliant way with words and caught the attention of several publications at an early age. During college, two of his stories were published in well-known magazines and he even won a prestigious short story contest.
Despite this early promise and his obvious talent, Brian drifted away from writing after graduating. He took a series of temporary telemarketing jobs to pay the rent and, although he had plenty of good story ideas, found he was too tired after work to write them down. Most nights he just flopped onto his couch and fell asleep in front of the TV. Over the next few years several of his girlfriends encouraged him to give up his day job and focus his energy on his passion—they pleaded with him to write. But Brian felt over-pressured by their enthusiasm; he didn't know how to respond so he did nothing and eventually each relationship just fizzled out.
On his 26th birthday Brian came to see me for a consultation. He was frustrated at his inability to get started in his chosen career, and was increasingly worried that both his life and his dream of being a writer were passing him by.
"All I want to do is be a writer, Ghanshyam," he told me. "I know I can do it, but it just doesn't seem to be happening for me. I can't bring my ideas to life on paper, let alone keep a relationship alive. My career and my love life are going nowhere."
The prints I took of Brian's palm gave me a pretty good notion of the root of his problem.
He indeed possessed the hand of a writer, displaying a truly impressive head line and a strong intuition line that indicated a deep intellect guided by an innate and profound insight into the human condition. Unfortunately, his head line was enmeshed in a massive web of intricately woven interference lines. These types of interference lines are often found in a hand that is finely textured with a skin consistency that is very soft to the touch. A fine texture and soft consistency frequently reflect a sensitive, kind and empathetic nature, but can also indicate we lack the fire and passion to get things done.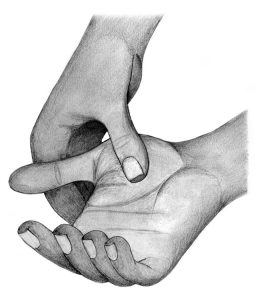 I pressed my thumb into Brian's palm—the simple action left a dent in his skin that did not immediately bounce back. The lack of resiliency confirmed what the prints had told me: Brian had a good and gentle nature but lacked the fortitude, motivation or staying power to tackle the demands of a writing career—or the demands of a committed relationship.
"Let me ask you something about yourself, Brian . . . and please answer honestly," I said. "When it comes to work or love, do you find you would rather go with the flow and stick with the status quo than test yourself and work hard to get what you want?"
Brian sighed. "I think you hit the nail on the head Ghanshyam. It's not that I'm lazy—I just prefer being comfortable. I know my attitude is holding me back, but I can't seem to shake off this sense of lethargy."
"Well, let's see if we can do that together," I said. "You have the natural genius and talent to be a great writer—but all these crisscrossing interference lines are forcing you to use your head line improperly. You use it to make excuses instead of making things happen, you daydream instead of applying yourself, you waver instead of committing and you procrastinate instead of acting. Getting rid of those interference lines will help forge the attitude you need to develop your gifts and put them into motion. And once you've accomplished that, your writing career and your love life will begin to take shape."
I designed a program of meditation and yoga for Brian to develop his powers of concentration and his physical stamina. He began showing great improvement in just a matter of weeks and had started writing short stories again. Sadly, in an effort to save money, he moved in with his brother, a no-nonsense criminal lawyer who didn't understand meditation and had no patience for yoga. He gave Brian an ultimatum: abandon palmistry or leave his house.
When making major changes in ourselves, it is critical to have the support and encouragement of those we love and rely on. Brian was on the verge of making his dream a reality, but had not developed enough resilience to do it on his own. Instead he chose to quit yoga and meditation in order to remain in the comfort of his brother's home. As far as I know, he never wrote again.
Do you need guidance or encouragement to help your dream become a reality? Give us a call at 866-428-3799, or book a consultation by clicking here. We're here to help.
https://birla.ca/wp-content/uploads/2017/02/Brian-dream-denied.jpg
464
1000
Ghanshyam Singh Birla
http://birla.ca/wp-content/uploads/2017/11/logo-eng.png
Ghanshyam Singh Birla
2017-02-08 12:03:00
2018-04-24 10:23:45
Brian: A Dream Denied