Happy Birthday Geminis!
From June 13th to July 14th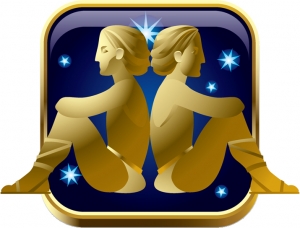 This is a very special time for all Geminis,
which includes anyone born approximately between June 13th and July 14th

Don't forget that we practice Vedic astrology so you might be surprised to discover that your Vedic sign is the one before your Western sign. Knowing your Vedic Sun sign can really change your perspective and potentially make a world of difference in your life.
CLICK HERE to see our Vedic Conversion chart.
For all you Geminis, the Sun is making its once-annual "Solar return" to the same position it was in at the time of your birth. So, you are not only celebrating a birthday, but you are about to embark on a brand-new chapter in your life! It is an excellent time to let the most positive aspects of your birth sign shine through. For Geminis, those positive aspects include a quick-thinking, quick-witted and fast on your feet nature.
Gemini is the third sign of the zodiac associated with self-expression, relationships and the sharing of ideas. Mercury, the planet of communication and enlightenment, rules this sign. In Roman mythology, the responsibility of conveying the thoughts, desires and intentions of the gods was assigned to none other than the fleet-footed deity Mercury, known as the Messenger of the Gods.
Geminis are natural teachers, capable of bringing insights, inspiration and new ideas to humanity. Although Geminis are good conversationalists with a great sense of humour, they also love to listen and learn. They are both curious and clever, which is why they are such a hit at any event. Geminis are lively, witty, curious and playful. Due to their versatility, possibilities are unlimited. Its keyword is "I think".
The lesson for Geminis is how to focus in order to remain productive and useful. Otherwise, too many exciting and stimulating ideas may pull you in too many directions, creating an unfocused and scattered energy.
---
Those who share your Sun in Gemini Birthday
Pamela Anderson, Bianca Andreescu, Giorgio Armani, Julian Assange, Dan Aykroyd, Kathy Bates, Isabelle Boulay, Liona Boyd, George W. Bush, Pascale Buissière, Robert Charlebois, Renée Claude, Jean Cocteau, Tom Cruise, Dalai Lama, Lady Diana, Chris Evans, Jean-Pierre Ferland, Harrison Ford, Johnny Hallyday, Tom Hanks, Garou, Margie Gillis, Nicole Kidman, Elisabeth Kübler-Ross, Cindy Lauper, Gina Lollobrigida, Barry Manilow, Paul McCartney, Anne Murray, Elon Musk, Juliette Powell, Chris Pratt, Prince William, Robbie Robertson, John D. Rockefeller, O.J. Simpson, Sylvester Stallone, Ringo Star, Antoine de Saint-Exupéry, Meryl Streep, Nikola Tesla, Michel Tremblay, Alan Turing, Gino Vannelli.
---
Let us help you make the most of the next twelve months by charting your planets and analyzing your solar return this year. As a little birthday gift to all Geminis, we are offering a 15% discount on the regular cost of a consultation between June 13th and July 14th.
Special Birthday Gift*:
                                                                         60 minutes                           90 minutes
Consultation with Denise:            $118.00   (Reg. $139)               $178.50  (Reg. $208.50)
Consultation with Guylaine:        $157.00    (Reg. $185)              $234.00  (Reg. $277.00)
Consultation with Ghanshyam:   $250.75   (Reg. $295)              $376.00  (Reg. $442.50)
Book a consultation - available by phone, on Skype or via Zoom.
To book your consultation or if you have any questions,
call us toll free at 866-428-3799, at 819-428-4298 or click here.
We are here to help.