Description
Experience love on a level you have never known before.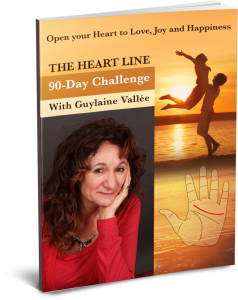 If you have difficulties in your love life, are searching for a new romance, or are striving to bring more balance and harmony to your current relationships, our 90-Day Heart Line Challenge will truly change your life! Why? Because the heart line is our doorway to love in all its wonderful manifestations.
Weekly PDF lessons including encouraging real-life stories, exercises, meditations, journaling and affirmations to open your heart chakra.
Weekly videos to guide you and inspire your transformational journey.
Two sets of inked acetates to take your own 'before and after' handprints to see the changes in your hand prints.
Weekly Summary worksheet to help keep you on track, including a space for you to submit questions that can be answered in the Facebook Forum.
BONUS: Healing with the Heart Webinar (12 Sessions)
To enhance the effectiveness and healing power of the Challenge, Ghanshyam has created the intensely personal Healing with the Heart Webinar, a series of 12 one-hour recorded sessions that dive deeply into the Challenge's weekly lessons to ensure you get the most from all the wonderful benefits the program has to offer.
Special offer to all participants:
For those looking for additional support throughout The Challenge, personal coaching sessions are available via telephone, Skype or video-conference (Zoom) at very affordable rates:
$49 / 30 minute session - $99 / 60 minute session
You will receive an email, including your access codes to The Challenge.
Register now! Only $249 plus shipping

CLICK HERE

to know more about our Personalized One-on-One Challenge Programs