Happy Birthday Libra!
From October 16th to November 15th, 2023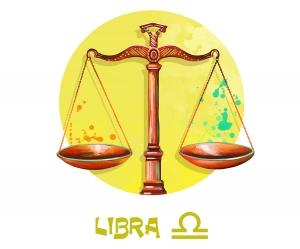 This is a very special time for all Libras,
which includes anyone born approximately between October 16th and November 15th.

Don't forget, we are doing Vedic astrology so you might be surprised to find your sign is actually the one before it. Knowing your Vedic Sun sign can really change your perspective and potentially make a world of difference in your life.
Click here to see our Vedic Conversion chart.
This is a very special time for all Libras. During this time, not only does it mean that the Sun has made its once-annual "Solar return" to the astrological position it was in at the moment of your birth, it also means you are celebrating a birthday and are about to embark on a brand-new year in your life!  It is an excellent time to let the most positive aspects of your birth sign shine through.
Libra is the seventh sign of the zodiac, relating to partnerships—our "other half". Its keyword is balance, reflected by the scales, the symbol of this sign. Venus, the planet associated with love and desire, rules Libra. Librans are noted for their beauty and aesthetic sense. Libras have the potential to bring harmony and beauty to the world. Charming and graceful, they can be excellent mediators and negotiators.
The sign of the scales reflects a desire to maintain harmony at all costs, which may compromise our inner truth, as we remain diplomatic rather than speaking out in the fear of causing disturbance. The challenge for Libra energy is maintaining an inner equilibrium and balance, so as not to tip our scales. Our desire for harmony and peace is realized when we develop an inner poise unaffected by the world in flux around us.
---
THOSE WHO SHARE YOUR SUN IN LIBRA BIRTHDAY
Bryan Adams (photo), Gilbert Bécaud, Albert Camus, Johnny Carson, Deepak Chopra, Hillary Clinton, Marie Curie, Catherine Deneuve, Leonardo Di Caprio, Drake, Taron Egerton, Sally Field, David Foster, Bill Gates, Whoopi Goldberg, Jeff Goldblum, Ryan Gosling, Tonya Harding, Kamala Harris, Anne Hathaway, Peter Jackson, Bruce (Caitlyn) Jenner, Kim Kardashian, Grace Kelly, John Krasinski, K.D. Lang (photo), Vivien Leigh, Angela Lansbury, Meghan McCain, Matthew McConaughey, Arthur Miller, Joni Mitchell, Demi Moore,  Patricia Paquin, Katy Perry, Pablo Picasso, Ryan Reynolds, Julia Roberts (photo), Pierre-Elliot Trudeau, Gilles Vigneault, Lise Watier, Oscar Wilde, Neil Young.
.
---
Let us help you make the most of the year ahead by charting your planets and examining your solar return this year. As a birthday gift to all Libras, we are offering a 15% discount on the regular cost of a consultation.
Special

Birthday

Gift*:
                                                                                  60 minutes                       90 minutes
Consultation with Denise or Colette:       $131   (Reg. $154)             $196  (Reg. $231)
Consultation with Guylaine:                      $177   (Reg. $208)             $265  (Reg. $312)
Ghanshyam (temporarily unavailable) :  $281   (Reg. $330)             $421  (Reg. $495)
Book a consultation - available by phone, on Skype or via Zoom.
To reserve or if you have any questions,
call 819-428-4298, toll free 866-428-3799, or click here.
We are here to help.
* Taxes not included