Happy Birthday Aries!
From April 12th to May 13th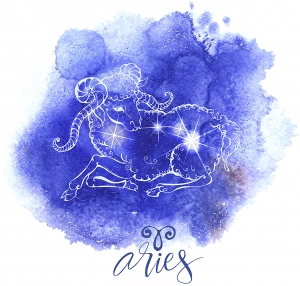 This is a very special time for all Aries,
which includes anyone born approximately between April 12th and May 13th

Don't forget we are doing Vedic astrology so you might be surprised to find your sign is actually the one before it. Knowing your Vedic Sun sign can really change your perspective and potentially make a world of difference in your life.
Click here to see our Vedic Conversion chart.
If you were born under the sign of the Ram, it's time to break out the champagne, release the balloons and celebrate! This is a very special time of year for all Aries, which includes anyone born between April 12th and May 13th. Not only has the Sun made its annual "Solar return" to the astrological position it was in at the exact time of your birth, but it also means you are enjoying a birthday and embarking on a brand-new year in your life!
For Aries, celebrating a Solar return—a birthday—means that you've spent the past year travelling full circle through the other eleven signs of the zodiac and have now arrived back at your birth sign. And what a sign it is!  Being the very first sign of the zodiac, Aries is a natural leader. And, as its symbol of the charging Ram suggests, having the Sun exalted in Aries means you are driven by forward momentum and are an irrepressible pioneer, trailblazer and initiator. The sun, at the center of the solar system, enjoys its greatest sense of personal power in the sign of Aries—so embrace your power!
Solar returns are great opportunities for the most positive aspects of one's birth sign to shine through. For Aries, those positive aspects include your straightforward, spontaneous and fearless nature. As a fire sign, Aries tend to be outgoing, dramatic, charismatic, passionate and impossible to ignore.
However, because Aries is ruled by the warrior planet Mars, your straightforward and spontaneous nature needs a bit of reflective tempering. It's best for Aries to take a contemplative pause before charging headlong into new situations. It is always a wise move for Aries to consider all of the pros and cons to gain perspective before tackling a major new project, becoming the champion of a new cause or leaping headlong into a new relationship.
---
Those who share your Sun in Aries Birthday
Adele, Will Arnett, Michel Barrette, David Beckham, Candice Bergen, Bono, Charlie Chaplin, Hayden Christensen, George Clooney, Leonardo Da Vinci, Roy Dupuis, Wayne Dyer, Jennifer Garner, Stephen Harper, Audrey Hepburn, Kate Hudson, Thomas Jefferson, Dwayne Johnson, Jiddu Krishnamurti, Shirley Maclaine, Guy Mongrain, Michael Moore, Jack Nicholson, Ryan O'Neil, Al Pacino, Michelle Pfeiffer, Princesse Charlotte, Queen Elisabeth II, Natasha Richardson, Seth Rogen, Gildor Roy, William Shakespeare, Barbara Streisand, Rabindranath Tagore, Rudolph Valentino, Orsen Welles, Swami Sri Yukteswarji
---
Let us help you make the most of the year ahead by charting your planets and examining your solar return this year. As a little birthday gift to all Aries, we are offering a 15% discount on the regular cost of a consultation between April 12th and May 13th, 2021.
Special Birthday Gift*:
    60 minutes                           90 minutes
Consultation with Denise :            $118   (Reg. $139)               $156.75  (Reg. $208.50) Special offer until April 30th
Consultation with Guylaine :        $157    (Reg. $185)              $234   (Reg. $277.00)
Book a consultation - available by phone, on Skype or via Zoom.
To reserve or if you have any questions,
call us toll free at 866-428-3799, at 819-428-4298 or click here.
We are here to help.
* Taxes not included