Happy Birthday to all Scorpios!
From November 15th to December 14th, 2023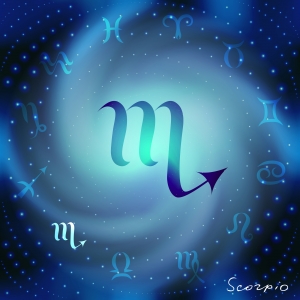 Don't forget that we practice Vedic astrology so you might be surprised to discover that your Vedic sign is the one before your Western sign. Knowing your Vedic Sun sign can really change your perspective and potentially make a world of difference in your life.
Click here to see our Vedic Conversion chart.
This is a very special time for all Scorpios, which includes anyone born between November 15th and December 14th.
During this time, not only does it mean that the Sun has made its once-annual "Solar return" to the astrological position it was in at the moment of your birth, it also means you are celebrating a birthday and are about to embark on a brand-new year in your life! Solar returns are great opportunities to let the most positive aspects of your birth sign shine through.
Scorpio is the eighth sign of the zodiac, reflecting the cycles of death and rebirth. It is co-ruled by two planets: Mars, the intense and passionate warrior planet that imbues us with strength and fortitude; and Pluto, the higher octave of Mars that embodies the attributes of the Hindu god Shiva, the creator and destroyer.
The sign Scorpio is associated with the underground, and all that is not immediately apparent to the physical eye. This includes the physical world of hidden treasure; for example, the ability to discover precious gems or metals, archaeological finds, antiques and so on. We make excellent researchers and detectives. Scorpio also relates to the unseen metaphysical world—our psyche, psychotherapy, meditation, dreams and esoteric sciences, such as astrology and palmistry, not to mention our infinite soul.
Having Scorpio as a Sun sign indicates a willingness to search for the truth no matter how painful the process, which often results in our personal transformation and the transformation of those around us.
---
Those

who

share

your Sun

in Scorpio

Birthday
Woody Allen, Margaret Atwood (photo), Joe Biden, Beau Bridges, Jeff Bridges, Francis Cabrel, Maria Callas, David Carradine, Winston Churchill, Miley Cyrus, Sammy Davis Jr., Charles De Gaulle, Judi Dench, Joe DiMaggio, Walt Disney, Jack Dorsey (Twitter), Kirk Douglas, Jodie Foster, Indira Gandhi, Robert Hand, Goldie Hawn, Jimi Hendrix, Scarlett Johansson, Caroline Kennedy, John F. Kennedy Jr., Robert F. Kennedy, Chad Kroeger, Bruce Lee, Marc Labrèche, Sophie Marceau, Rachel McAdams (photo), Claude Monet, Julianna Moore, Jim Morrison, Jawaharlal Nehru, Kevin Parent, Oscar Pistorius, Mark Ruffalo, Meg Ryan, Sathya Sai Baba, Martin Scorsese, Ridley Scott, Frank Sinatra, Britney Spears, Taylor Swift (photo), Tina Turner, Karine Vanasse, Gianni Versace, Voltaire, Nanette Workman.
---
Your Solar return is an ideal time to have your astrological birth chart done. A Solar return chart is not only a summary of the planetary energies (and the opportunities and challenges) you will encounter in the coming year—it is a playbook that will help you make the most of your planets in the next 12 months while avoiding any negative cosmic influences that may be heading your way. It is also a great tool for setting goals and establishing priorities to ensure you achieve all you want to accomplish.
Let us help you make the most of the year ahead by charting your planets and examining your solar return this year.
We are such big believers in the value of having your Solar return chart done, we are delighted to offer you an added incentive to encourage you to do so. As a birthday gift to all Scorpios, we are subtracting 15% from the regular cost of a consultation.
Special Birthday Gift*:
                                                                                  60 minutes                     90 minutes
Consultation with Denise or Colette:       $131   (Reg. $154)             $196  (Reg. $231)
Consultation with Guylaine:                      $177   (Reg. $208)             $265  (Reg. $312)
Ghanshyam (temporarily unavailable):   $281   (Reg. $330)             $421  (Reg. $495)
Consultation are available by phone, on Skype or via Zoom. Book your session today!
To reserve or if you have any questions,
call us toll free at 866-428-3799, at 819-428-4298 or click here.
We are here to help.
*Taxes not included