Astro Tip of the Month: What's in Store for Us?
Vedic and Western astrology interpret the placement of Zodiac signs a bit differently. You might be surprised to find your sign is actually the one before it. Knowing your Vedic Sun sign can really change your perspective and potentially make a world of difference in your life. Please click here to consult our Vedic Conversion chart.
If you would like to learn more about Vedic astrology, here is a link to our book, Language of the Stars.
---
Sun in Libra: All You Need is Love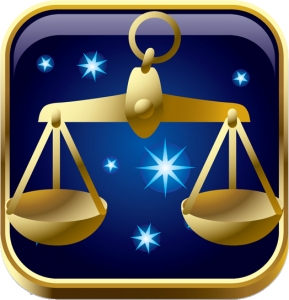 The Sun will be in the sign Libra October 15th to November 14th.
Click here to see our conversion chart.
The Sun moved into the sign Libra on October 15th, where it will remain until November 14th. Naturally, this is a very special time of year for Libras but is also a special time for the rest of us because we all have Libra somewhere in our astrological chart. So, this month, everybody gets a chance to experience the benefits of Sun in Libra.
Libra is the seventh sign of the zodiac, relating to our "better half", our partnerships, justice and harmony. Its keyword is balance, reflected by the balanced scales that are the symbol of this sign. Libra is ruled by Venus, the planet of love and beauty, which gives us all the opportunity to develop a sense of grace, charm and delight. This is also a time where we can focus on bringing harmony, peace and beauty to the world.
One caution is not to create conflict in our enthusiasm and desire to maintain harmony.
---
THOSE WITH THE SIGN LIBRA PROMINENT IN THEIR BIRTH CHART
Here are a few outstanding individuals who have the sign Libra highlighted in their chart:
Singer songwriter Neil Young has a Libra ascendant;
Singer K.D. Lang has the Sun in Libra;
Singer Michael Bublé has the Moon in Libra.
---
Discover how the Sun in Libra is influencing all aspects of your life.
Book a consultation with us, available either on Skype, by phone or via Zoom. We'll help you make the most of this powerful planetary transit!
Call us toll-free at 866-428-3799 from Canada or the U.S.
You can reach us from anywhere in the world by calling: 819-428-4298, or click here.
For those celebrating a birthday between October 15th to November 14th, click here for information on our Birthday Special