Astro Tip of the Month: What's in Store for Us?
Vedic and Western astrology interpret the placement of Zodiac signs a bit differently. You might be surprised to find your sign is actually the one before it. Knowing your Vedic Sun sign can really change your perspective and potentially make a world of difference in your life.
If you would like to learn more about Vedic astrology, here is a link to our book, Language of the Stars.
---
Sun in Virgo: Striving for Excellence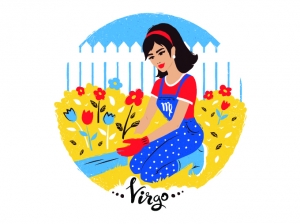 September 15th to October 16th

The Sun moves into the sign Virgo on September 15th and will stay there until October 16th. This is a very special time of year for all Virgos! But why should Virgos get all the fun? It is important to remember that each of us has Virgo somewhere in our astrological chart. So, this month, everybody gets to experience the wonderful benefits of Sun in Virgo.
Virgo is the sixth sign of the zodiac relating to how we use our energy. Ultimately, we can direct our energy to realize perfect health in all our bodily systems—physical, mental and spiritual. Virgo's symbol is the virgin, which represents perfection as the purest untapped potential of our energy reservoir. This sign reflects our choice of how we will recharge or dissipate our energy resources. We can develop our nervous system to resist all that is negative that can deplete us, and/or embrace the positive, which acts to restore our energy. We can perfect our energy to win a trophy, realize samadhi or create enmity.
Virgo is a sign of perfection with an irresistible urge to improve everything and everyone. So, whichever house Virgo is located in your astrological chart, this is where you have that high standard of perfection and where your excellence will most shine; it is where your natural gifts of organization and communication can be of most service to others. You just have to learn to not be too critical of yourself in that area.
As Virgos are health conscious, this month take care of your health, start a diet or any new habit that can make you feel better!
---
CANADIAN CELEBRITIES WITH THE SIGN VIRGO PROMINENT IN THEIR CHART
Virgos are sensitive and perfectionist. Although each of us has Virgo energy in our astrological chart, it is especially highlighted when it is found in one of the following three positions: when Virgo is the ascendant, or when the Sun or the Moon is in Virgo. Here are a few Canadian luminaries who have benefited from their connection to Virgo:
VIRGO ASCENDANT: Award-winning actors Donald Sutherland and Ryan Reynolds (photo), singer Isabelle Boulay and cosmetic mogul Lise Watier
SUN IN VIRGO: Singer-songwriters Leonard Cohen, Michel Rivard and Avril Lavigne, and award-winning film director and screenwriter Denis Villeneuve (photo)
MOON IN VIRGO: Singer-songwriters Gordon Lightfoot (photo), Justin Bieber and Shania Twain and award-winning actor Dan Aykroyd
---
From September 15 to October 16, discover how the Sun in Virgo is influencing your life and relationships. Book a consultation with us, either on Skype, by phone or via Zoom. We'll discuss how to make the most of this planetary transit.
Call us toll-free at 866-428-3799 from Canada or the U.S.
You can reach us from anywhere in the world by calling 819-428-4298 or click here.
For those celebrating a birthday between September 15 and October 16
click here for information on our Birthday Special