Astro Tip of the Month: What's in Store for Us?
Vedic and Western astrology interpret the placement of Zodiac signs a bit differently. You might be surprised to find your sign is actually the one before it. Knowing your Vedic Sun sign can really change your perspective and potentially make a world of difference in your life.
If you would like to learn more about Vedic astrology, here is a link to our book, Language of the Stars.
---
Sun in Scorpio: The Intense and Passionate Warrior and our Personal Transformation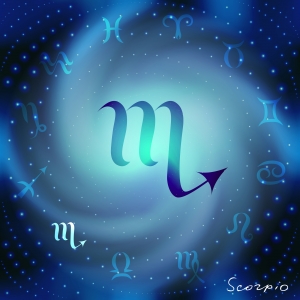 November 15th to December 14th

The Sun moves into the sign Scorpio on November 15th and will stay there until December 14th. This transit is brimming with energy that can help us change, grow and achieve excellence in all areas of our lives. Naturally, this is a very special time of year for Scorpios. But the energy of this transit can benefit everybody because each and every one of us has Scorpio somewhere in our astrological chart. So, this month, we all get to experience the wonderful benefits of Sun in Scorpio.
Scorpio is the eighth sign of the zodiac, reflecting the cycles of death and rebirth. It is co-ruled by two planets: Mars, the intense and passionate warrior planet that imbues us with strength and fortitude; and Pluto, the higher octave of Mars that embodies the attributes of the Hindu god Shiva, the creator and destroyer.
Pluto pushes us to change by forcing us to shed our old patterns and become a different and, hopefully, an improved version of ourselves. Indeed, under the influence of Pluto, Scorpio is associated with the image of the phoenix rising from the ashes, denoting our potential to constantly renew and transform ourselves. It is no coincidence that the planet Pluto pertains to atomic energy, which possesses an immense latent power that can be unleashed to create great benefit or indescribable harm.
The Sun pertains to the light of truth, and during this transit we can all take advantage of the Sun in Scorpio's willingness to search for what is real and genuine, which often results in our positive transformation both in ourselves and those around us. We are aided in this through the warrior spirit of Mars, which gives us the inner strength to delve deeply into our psyche and confront our true motives. As Aristotle said: "Knowing yourself is the beginning of all wisdom."
---
CANADIAN CELEBRITIES WITH THE SIGN SCORPIO PROMINENT IN THEIR CHART
Scorpios are passionate and intense. Although each of us has Scorpio energy in our astrological chart, it is especially highlighted when it is found in one of the following three positions: when Scorpio is the ascendant, or when the Sun or the Moon is in Scorpio. Here are a few Canadian luminaries who have benefited from their connection to Scorpio:
SCORPIO ASCENDANT: Award-winning singer-songwriter Sarah McLachlan (photo), singer Justin Bieber and actress Carrie-Anne Moss.
SUN IN SCORPIO: Poet, environmental activist and novelist Margaret Atwood, award-winning actresses Rachel McAdams and Karine Vanasse (photo), singer-songwriters Gordon Lightfoot, Kevin Parent and Carly Rae Jepsen and jazz pianist and singer Diana Krall.
MOON IN SCORPIO: Four-time Olympic gold medalist hockey player Hayley Wickenheiser (photo) and singer-songwriters Bruce Cockburn and Chad Kroeger have the Moon in Scorpio, just like Gord Downie, the late lead singer of The Tragically Hip.
---
We most benefit from this transit by knowing in which astrological house Scorpio (and its rulers, Mars and Pluto) resides in our personal natal chart. Why? Because that is where we can truly explore our nature and find the power to ignite our hidden potentials. So, if we have the willingness to search for the truth, no matter how painful the process, we can use the energy of Sun in Scorpio to transform ourselves and our lives in wonderfully positive ways we may never have imagined possible.
From November 15th and December 14th, discover how the Sun in Scorpio is influencing your life and relationships. Book a consultation with us, either on Skype, by phone or via Zoom. We'll discuss how to make the most of this planetary transit.
Call us toll-free at 866-428-3799 from Canada or the U.S.
You can reach us from anywhere in the world by calling 819-428-4298 or click here.
For those celebrating a birthday between September 15 and October 16
click here for information on our Birthday Special